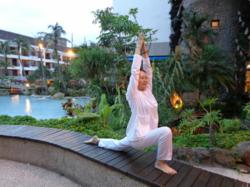 Vedic Astrology Conference will be hosted on the July 4th weekend in California.
Grass Valley, CA (PRWEB) May 13, 2013
The Sivananda Yoga Farm announces its conference schedule for 2013 Vedic Astrology Conference: "Matching Karmas with Yogic and Vedic Solutions" hosted at the Sivananda Yoga Farm in July, 2013.
About Sivananda Ashram Yoga Farm
In 1971, Swami Vishnudevananda returned to California and founded the third ashram in the young Sivananda International organization: the Sivananda Ashram Yoga Farm on 40 acres of land located in the Gold Country of the beautiful Sierra Nevada Foothills in Northern California. The non-profit, non-sectarian ashram offers yoga classes, retreats and teacher training courses for students of all abilities. For more information, please visit sivanandayogafarm.org. A retreat is also offered in meditation vietnam, as well as Yoga Nidra courses.
Registration for the vedic astrology conference is currently open. For more details please visit sivanandayogafarm.org or call (530) 272-9322/(800)469-9642.
Prashna: Nimitta
Prashna: Arudha & Gulika
Prashna: Ashta Mangala
Role of Astrologer in Divination
Kailasnath Krishnan
7/5 8:00 - 10:00 am, 12:00 - 1:30 pm, 2:30 - 4:00 pm, 8:30 - 9:30 pm
Prashna means question. The question to the prashna astrologer is "Did one create positive karma for myself through expressing the free will or not? What areas are obstructing and how to resolve these?" The Prashna astrologer becomes Daivagnya (divine oracle) at the moment of the consultation and gives the answers as if through the higher power. This is a very profound and complicated branch of Vedic Astrology. Kailasnath will share his knowledge on techniques of Prashna with focus on Arudha, Gulika, Past life, Nimitta and more.
Bala Assessment: Creating Life Advantage with Vedic Astrology
Remedial Measures: Vedic Methods to Close the Gap
William R. Levacy, Ph.D.
7/06 12:00 - 1:30 pm
7/07 2:30 - 4:00 pm
Assessing the Vedic astrology chart enables the astrologer and client to define and shape personal development. The chart helps identify strengths and weakness (bala) and the key, specific skills (shubha karmas) that we must develop to succeed. This class will look at the chart as a competency model to help us recognize the ongoing need to update our talents, skills, knowledge, abilities, and behavior to gain maximum evolution in life.
Vedic astrology not only identifies what is broken in our life but gives us recommendations on how to fix them. There is a broad inventory of topics related to corrective actions in the field of Vedic astrology. This class will examine the various types of Vedic remedial measures. In the program, students will discuss their proper application to align personal action or karma with the highest outcomes promised in the birth chart.
Karma and Freewill
Past life resonances and how to handle them
Andrew Foss
7/06 8:00 - 10:00 am
7/07 6:45 - 7:45 am
The Vedic chart gives us a snapshot of the karma at the beginning of life but then how much does that dictate what we experience as the years pass? How much freewill does one have? This talk will address these questions and related topics.
Some believe that this life is influenced by experiences in past lives. we will look at the evidence for this and what the texts say about the stream of karma from life to life and possible indications in the Vedic chart.
Saturn-Rahu Conjunctions
The Secret of Exaltations and Debilitations
Komilla Sutton
7/06 2:30 - 4:00 pm, 7/07 8:30 - 9:45 pm
We will talk about the karma created by Saturn and Rahu and what its conjunction means on a karmic level for all of us and the world as we are experiencing this conjunction together. Komilla will give a personal point of view on how to deal with this and therefore other challenging conjunctions.
Why do planets gets exalted and debiltated at certain degrees of chart? The presenter will talk about the rashi, and nakshatra positions. Speak on the myths connected to these positions. Why sometimes even exalted planets are not as good as they are and debilitated planets also have their strength - the key lies in understanding them and developing their qualities in the right way.
Jagraadadi avasthas
Enlightened Actions Through The Astrology Houses
Sadasiva (Sam Geppi)
7/07 8:00 - 10:00 am
7/08 6:45 - 7:45 am
Using Jagraadadi avasthas to assess the relative wakefulness and sleepiness of each graha and how that refers to the three gunas .. and what to do about it in a chart. This includes the formula for calculating dignity in the chart.
Students will look at the rules for planetary house rulership as outlined in the Yoga Karaka Chapter in BPHS (Sadasiva's book - The Ascendant - 108 Planets of Vedic Astrology is based on this very important Chapter) and explore the deeper, overlooked qualities of the Astrology houses and how a greater mastery leads to more enlightened actions for you and your clients.
Introduction to Planets & Houses
The Moon and Peace of Mind: Yogic and Buddhist Remedials
Keiko Ito
7/04 12:00 - 1:30 pm
7/07 12:00 - 1:30 pm
Everybody craves for peace of mind, yet it is one of the most difficult things to achieve. How can Buddhism show a way and Jyotish provide the actual pointers in a natal chart? And what is the "mind" anyway? Techniques and hints from Buddhism to quieten one's mind will be added to exploring the stresses to the Moon and many other factors in one's natal chart that indicate the cause and timings of disturbances and to show what kind of remedial measures can effectively help attaining it. In this workshop, students will examine the moon in the natal chart to preview and become aware of the possible disturbances to peace of mind and use yogic and budhist techniques and principles to guide us how to remedy to them. This workshop will focus exclusively on the disposition of the moon and the moon nakshatras as well as many other factors in the natal chart influencing peace of mind. Budhist and yogic pschychology give many insights on how to sublimate emotions, calm the mind and remove mental and emotional obstacles.
How to see the main aspects in an astrology chart
A career and spiritual life
Dr. Rami Bleckt
7/04 2:30 - 4:00 pm
7/08 8:00 - 10:00 am
Subconscious programs; the main mission of a person's life; a general synthesis of the chart; giving advice about important and necessary things at the current time.
The main factors of career success; how to neutralize unfavorably planets' positions that prevent from success in the career ; how social activity can influence our success in spiritual life).
Amazing Saturn
James Kelleher
7/06 8:30 - 9:45 pm
Of all of the planets, Saturn probably gets the worst press. In astrology, Saturn is associated with delays, obstacles, pressures, suffering, ill health and a wide assortment of other negative condition. Yet, these things are only the expression of Saturn's shadow side. In fact, Saturn is one of the most magnificent planets. It is responsible for our ability to bring our desires into concrete form. Without Saturn's permission, nobody would be able to produce or obtain anything good in life. In this class, Jim will talk about Saturn. He will not only familiarize the participants with Saturn's qualities, but he will also show you some powerful upayas or remedial methods for helping you "tune in" to Saturn, and remove obstruction and frustration.