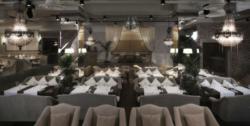 London (PRWEB UK) 21 February 2013
The new restaurant "Gusi-Lebedi" at Best Western Vega Hotel seats 145 guests and has 5 dining zones located on different levels. It is designed to celebrate different occasions both for private and business functions. There are intimate settings for romantic tête-à-tête as well as comfortable tables for business dinners or larger banquets.
Unique décor by Greta Denisova creates an original atmosphere that captured the intricate layers of the new and modern, and traditional Russia. This decor puts the Gusi Lebedi restaurant on the map of Moscow.
The center-piece of the restaurant is an impressive white, hand-crafted fireplace with a golden fresco – the symbol of the Gusi-Lebedi restaurant (the 'Geese and Swans' trade mark is one of the most famous Russian fairytales). A grandeur but cosy atmosphere is created by a cascade of crystal chandeliers sparkling, with velvet sofas, carved mirror columns and oak wooden flooring throughout.
With the marvellous surroundings the food does not disappoint. The guests get a chance to taste the most exquisite dishes prepared by the celebrity chef Maxim Tarusin. The chef is well known from his traditional Russian dishes, especially mouth-watering Beef Stroganoff. This most famous Russian dish will surely soon be the signature dish of the Gusi-Lebedi.
For a less traditional menu, the chef creates his own dishes such as Moscow borsch with duck or battered pike perch with mint apples. The menu is diversified and offers variety of European cuisine. The vast selection of fish and meat, hot and cold appetisers satisfies the most sophisticated palettes.
For happy hour the cocktail area offers a variety of drinks, non-alcoholic cocktails and a selection of cigars. In cold weather guests can enjoy a selection of specially designed, hot winter drinks such as non-alcoholic mulled white and red wine spiced with honey, cinnamon, and cloves infused in orange, apple and lemon juice. Or simply, go Russian, and enjoy a glass of vodka.
The Gusi-Lebedi at Vega Hotel is certainly a restaurant in Moscow to experience for its ambiance and exceptional cuisine. With its great value the average price of RUB 1,500 (approx. £30 GBP), everybody can afford a bit of luxury and spend a nice evening in an unique place.
For more information about the restaurant please visit the website:
http://en.hotel-vega.ru/restaurants/restoran-gusi-lebedi/