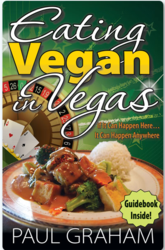 I was inspired to write Eating Vegan in Vegas to build a bridge with people in celebration of all the quality plant-based eating options we have in Las Vegas. My blog and e-book reflect a shift in our society as we move towards more conscious living
New York, NY (PRWEB) February 12, 2013
Sullivan Street Press, leading green e-book publisher is pleased to announce that "Eating Vegan in Vegas: if It Can Happen Here, It Can Happen Anywhere (with guidebook)," will be available exclusively on the Sullivan Street Press website on April 11, 2013.
This e-book details the 365-day challenge its author, Paul Graham, set for himself--to eat a different vegan meal at a restaurant in Las Vegas for one full year. Included in the e-book is a complete and most definitive guide available to all restaurants offering vegan meals. For the millions of visitors to Las Vegas every year, this e-book will be a great resource to the food revolution that is transforming Las Vegas.
The blog was a huge success in Las Vegas and beyond as Paul Graham shared his remarkable insights into the ethical, healthful and spiritual reasons for living a life that is more compassionate and loving to the planet.
As Paul Graham says about his reasons for writing the blog and e-book/guidebook:
"I was inspired to write Eating Vegan in Vegas to build a bridge with people in celebration of all the quality plant-based eating options we have in Las Vegas. My blog and e-book reflect a shift in our society as we move towards more conscious living and eating for the sake of our health, the environment, social justice and our spirits."
The e-book/guidebook sells for $12.95; gift certificates are also available so it can be shared with friends traveling to Las Vegas and in need of a guide to the best vegan dining anywhere in the city.
The e-book chronicles what the blogging challenge was like for Paul: all the people he met; the talks they had about respecting life in all its forms; and the varieties of foods available in this city locked in the middle of the desert. Paul's achievement in conveying the wealth of vegan options in Las Vegas has inspired Elizabeth Kucinich to write a Foreword to his e-book sharing her excitement about what a great feat Paul Graham has achieved.
As the publisher, Deborah Emin, says about projects such as this from Sullivan Street Press:
"Paul Graham's e-book/guidebook, Eating Vegan in Vegas, allows us to share with readers Paul's insights into a changing way of life that matches in many ways the mission statement of the press. We all need to be concerned about the planet and no better way of being committed to its further existence can be found than in works such as Paul's e-book."
Paul Graham's yearlong blogging project is a celebration of plant-based eating and living. The e-book/guidebook shows the benefits he obtained by optimizing his health and vitality as well as all the bridges he built among a wide community that shares in this vegan way of life.
About Paul Graham:
Paul Graham was born, raised, and lived most of his life in the San Jose area of Northern California. While in the San Jose area he worked with teens and professional athletes and was the chaplain for the Oakland A's baseball team. He moved to Las Vegas, NV in 2004 where he is a writer, green realtor, and top wedding officiant. He has been a vegan since 2007 and began the Eating Vegan in Vegas blog in 2011. Paul writes a weekly Sunday column, Being Vegan, for "The Las Vegas Informer," an on-line newspaper which carries his column in its sister publications in California and Texas.
About Sullivan Street Press:
Founded 4 years ago, Sullivan Street Press entered the e-publishing domain to change the publishing paradigm. It recognized that for both financial and environmental reasons it was necessary to advocate for the rise of the e-book and the technology that makes all things digital possible. Responding also to the numbers of authors whose books have gone out of print, Sullivan Street Press has begun a new program working with these authors and reissuing their books as e-books. For more information on all the various ways in which Sullivan Street Press is using new technology to reduce pollution and waste in the publishing process, visit its 100% carbon neutral website: http://www.sullivanstpress.com