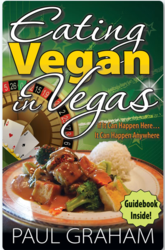 New York, NY (PRWEB) April 11, 2013
Leading green e-book publisher, Sullivan Street Press, announces the highly anticipated "Eating Vegan In Vegas: If It Can Happen Here, It Can Happen Anywhere" e-book by Paul Graham is now available for download. The e-book is available exclusively on the Sullivan Street Press website, and features a foreword by the Director of Public Affairs for the Physicians Committee for Responsible Medicine, Elizabeth Kucinich.
"Eating Vegan In Vegas" started as a wildly successful blog when author Paul Graham challenged himself to eat a different vegan meal in Las Vegas for an entire year. This challenge to eat a purely plant-based diet in the middle of the desert has received international attention as a wake-up call for society. Many believe Graham's writing could be the spark that ignites a global shift in the way the world eats.
Within the virtual pages of this e-book, readers can find the best vegan restaurants Sin City has to offer and the background behind Graham's ethical and spiritual reasons for taking on this endeavor. Graham provides detailed accounts of many of the dishes and his various experiences at each restaurant, including the people he met, dined with and discussed how to live a more compassionate and earth-loving life during their meal.
The e-book is available for $12.95; gift certificates are also available for those wishing to provide the most complete guide for family and friends traveling to Las Vegas who want to try or already live a vegan lifestyle. Writing the e-book to help educate the general public on the delicious vegan options available in Las Vegas, Graham is thrilled that his writings have been met with such enthusiasm. Now everyone can relive his 365-day journey through vegan Las Vegas at the click of a button. He hopes that his blog-to-book sensation will give others the extra push needed to live a more conscientious life tending the earth and the use of its resources.
Paul's yearlong blogging project is a celebration of plant-based meals and eating, showing others the benefits in optimizing health and vitality.
About Sullivan Street Press:
Founded 4 years ago, Sullivan Street Press entered the e-publishing domain to change the publishing paradigm. It recognized that for both financial and environmental reasons it was necessary to advocate for the rise of the e-book and the technology that makes all things digital possible. Responding to readers' concerns, many of whom aren't yet ready to commit to the e-book revolution, SSP began to have its books published in Print-on-Demand format on the Espresso Book Machine at McNally Jackson Books in New York City. Then it reached out to On Demand Books, the parent company of the Espresso Book Machine, to be included in their world wide system of Espresso Book Machines. In furtherance of the digital side of its publishing mission, the Scags Series is also available as in iPad app, powered by MAZ Digital. For more information on all the various ways in which Sullivan Street Press is using new technology to reduce pollution and waste in the publishing process, visit its 100% carbon neutral website: http://www.sullivanstpress.com