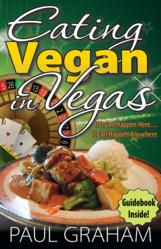 It is going to be a great night of networking with influential people involved with the vegan/animal rights movement. It is also an excellent opportunity for me to talk to this small group in depth about the e- book
New York, NY (PRWEB) May 08, 2013
Leading green e-book publisher, Sullivan Street Press, announces an official launch event in promotion of the newly released "Eating Vegan In Vegas: If It Can Happen Here, It Can Happen Anywhere" e-Book by Paul Graham. The event will take place Friday, May 10, 2013, from 7:00 PM – 9:00 PM at Elderberries Café, located at 7564 Sunset Blvd., Los Angeles California.
The location for the event couldn't be more fitting. Elderberries is an organic, vegan, gluten/soy free café that embodies kindness, care and consideration for the future of our world through awareness, healing, and nourishing food.
Graham states "It is going to be a great night of networking with influential people involved with the vegan/animal rights movement. It is also an excellent opportunity for me to talk to this small group in depth about the e- book and the importance of a strong connection between Southern California and Las Vegas. We hope this launch party will build another solid bridge that we can extend to future events."
Within the virtual pages of Paul's e-book, readers can find more than the best vegan restaurants Sin City has to offer but also the rationales Graham provides for the ethical, spiritual, environmental and health reasons for taking on this endeavor. The proximity of Las Vegas and Los Angeles makes this launch party the obvious next stop on Graham's search to bring as many people to the vegan table.
Eating Vegan In Vegas e-book is available exclusively on the Sullivan Street Press website, and features a foreword by the Director of Public Affairs for the Physicians Committee for Responsible Medicine, Elizabeth Kucinich. The e-book is available for $12.95; gift certificates are also available on the website so that friends and family traveling to Las Vegas can share in the rich harvest this e-book has to offer.
Writing this e-book to help educate the general public on the delicious vegan options available on daily basis in Las Vegas, Graham is thrilled that the vegan community and more have enthusiastically responded to his e-book. As Graham says, If it can happen here, it can happen anywhere.
About Sullivan Street Press:
Founded 3 years ago, Sullivan Street Press entered the e-publishing domain to change the publishing paradigm. It recognized that for both financial and environmental reasons it was necessary to advocate for the rise of the e-book and the technology that makes all things digital possible. Responding to readers' concerns, many of whom aren't yet ready to commit to the e-book revolution, SSP began to have its books published in Print-on-Demand format on the Espresso Book Machine at McNally Jackson Books in New York City. Then it reached out to On Demand Books, the parent company of the Espresso Book Machine, to be included in their world wide system of Espresso Book Machines. In furtherance of the digital side of its publishing mission, the Scags Series is also available as in iPad app, powered by MAZ Digital. For more information on all the various ways in which Sullivan Street Press is using new technology to reduce pollution and waste in the publishing process, visit the website: http://www.sullivanstpress.com