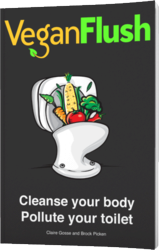 Vegan Flush promises to help you Cleanse Your Body and Pollute Your Toilet
Orangeville, Ontario (PRWEB) October 31, 2011
Vegan cookbook author Claire Gosse (along with health and fitness expert, Brock Picken) has just released a new book, Vegan Flush, which provides readers with a gentle, healthful 14-day vegan cleanse.
These days people are eating diets that mostly consist of fast foods, processed foods, too much fat and sugar, and various foods that are difficult to digest or laden with pesticides. Toxins from these foods can affect almost every part of our bodies. These foods become trapped in their colons, leave them overweight and sick, and even threaten their lives.
The Vegan Flush 14 day diet promises to "Cleanse your body and pollute your toilet". Referencing the increased bowel movements experienced by most participants.
Claire Gosse along with Brock Picken have put their talent and ingenuity to work in Vegan Flush to create a regimen that will help people naturally cleanse their colons, lose weight, and regain health. Other cleanses often require fasting or taking harsh chemical products. Vegan Flush uses fresh, healthy foods to do the same job but not to starve or shock the system.
The book explains why a flush is important for everyone. A list of the most beneficial foods is included with explanations of why these foods are particularly effective. Vegan Flush provides nutritional information and guidelines for activities that will help users make the most of this cleanse.
Vegan Flush offers a list of recipes for breakfast, lunch, dinner, snacks, and desserts (from vegan pancakes to lasagna to blueberry thumbprint cookies). The book discusses how to make vegan cleanse choices when eating out.
Extensive product information and websites where the products can be obtained are included. Since the trend to eat vegan is becoming more popular globally, most ingredients for the flush are easily available in your local grocery store, farmers' market, health food store, or online.
Claire and Brock wrote Vegan Flush because they wanted to give people a way to take care of their bodies without starving or damaging their health. In this book they provide the information, the process, and the products to do that.
Claire works from her heart. Her interest in becoming vegan started 13 years ago out of her love for animals. At that time there wasn't much in the line of vegan food to choose from. She began to "veganize" ordinary recipes. As more vegan products came on the market, she was able to adapt more dishes. Since she started, she has created two cookbooks that prove great foods can be made using vegan methods. All of her recipes have been tested and praised by non-vegans. Are You Sure That's Vegan (Desserts) and Are You Sure That's Vegan (Breakfasts) have been reviewed very positively by many sources including VegNews.
You can get a copy of Vegan Flush as well as Claire's vegan cookbooks easily by visiting http://www.vegancooking.com/
###