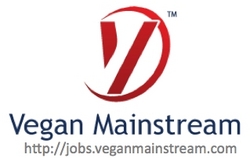 Since veganism goes beyond the food on one's plate, vegans are in search of careers that satisfy their compassionate mindset
La Jolla, CA (Vocus) December 3, 2009
Vegans and Vegetarians can now complement their lifestyle with 'ethical friendly' jobs - offering their professional skills to like-minded employers sharing the same compassion and humane view towards animals and the environment. The launch of a new Job Board by established Marketing Company, Vegan Mainstream, allows employers from all industries to advertise directly for professionals with a Vegan or Vegetarian lifestyle. With listing categories including Eco/ Green Jobs, Animal Rights Jobs, Vegan Jobs and Vegetarian Jobs, the job board opens up a new era of job advertising.
The new Job Board continues Vegan Mainstream's mission to foster mutual support among cruelty-free businesses, enabling people with similar values to promote each other professionally and economically.
"Since veganism goes beyond the food on one's plate, vegans are in search of careers that satisfy their compassionate mindset," says Stephanie Redcross, Managing Director at Vegan Mainstream.
The Board promotes jobs in all industries and professions – focusing on matching employee and employer values. It is the aim of Vegan Mainstream to administer a diverse range of available jobs.
Employers will benefit from the new job board in more ways than one. Job postings are syndicated to Vegan and Vegetarian forums and social media platforms, and are included in Vegan Mainstream newsletters, providing extra visibility. The easy application process means that all the hard work is done for the employers since applicants can easily view and apply for job via the online application forms.
About Vegan Mainstream Job Board
Vegan Mainstream's Job Board is open to employers worldwide who are looking to attract employees that share a passion for the vegan and vegetarian lifestyle. All professions and career paths are encouraged, and postings are not limited to 'food related' positions. Job postings are $47 for 30 days, however jobs posted in the month of December are free for 30 days (use code: VEGANJOBS1209). More information can be found at Vegan Jobs.
# # #