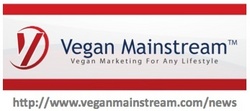 With Vegan Mainstream, vegans across the globe now have the opportunity to connect on their own turf
La Jolla, CA (Vocus) February 3, 2010
Vegan Mainstream is a one-stop content portal for businesses, bloggers, new vegetarians and non-vegans alike -- and aims to do for the vegan and vegetarian community what Digg.com did for news in popular culture.
Following trends in business, the environment, travel, recipes, government, animal rights, products and more, Vegan Mainstream keeps vegan and vegetarian communities current with what's happening in the world. Visitors can vote on popular vegan news and vegetarian news stories, comment on posts and share articles and content from their own websites and vegan blogs.
"With Vegan Mainstream, vegans across the globe now have the opportunity to connect on their own turf," says Stephanie Redcross, Vegan Mainstream Managing Director. "Anyone curious about the vegan lifestyle has access to all the best vegan content on the web, thanks to Vegan Mainstream users."
Vegan and vegetarian business owners can use the VM portal to spread the word about their products and services, and connect directly with the specialized communities they serve. Bloggers and other content producers can promote their sites, and VM users can create strong vegan and vegetarian communities online.
With RSS feeds for each topic and full integration with Twitter and Facebook, Vegan Mainstream is the perfect spot to connect with like-minded vegans and vegetarians to discuss important issues, stay up to date on important news, form sub-groups, connect with businesses and professionals, and make friends.
###