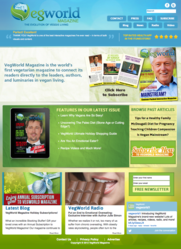 More people every day are being turned on to the vegetarian lifestyle — as a way to not only lose weight, prevent sickness and turn back the clock, but more importantly, stay compassionate in an increasingly violent world
Los Angeles, CA (PRWEB) December 19, 2012
The vegetarian website offers free access to articles from the magazine, exclusive interviews with bestselling authors, videos of leaders shining a spotlight on compassion, and much more.
"More people every day are being turned on to the vegetarian lifestyle — as a way to not only lose weight, prevent sickness and turn back the clock, but more importantly, stay compassionate in an increasingly violent world," explains Steve Prussack, Editor-In-Chief and founder of the magazine. "Now those who are curious about this lifestyle and its message can explore it for free in an entertaining and interactive way."
In fact, with more high-profile celebrities climbing on board, the vegetarian lifestyle is the hottest trend right now. So is VegWorld Magazine, according to its reader's reviews. The magazine has garnered a stream of 5-star reviews since its inception by readers "blown away" by its features and cutting-edge delivery.
VegWorld Magazine's unprecedented popularity is not surprising. The self-proclaimed "evolution of veggie living" is the first of its kind. Fully interactive, every issue of VegWorld Magazine contains videos, audios and links that bring the magazine's readers up close and personal with top chefs, doctors, best-selling authors, and those dedicating their lives to the pursuit of kindness — right from their iPad, mobile device or PC.
Each issue is loaded with the latest scientific research on plant-based nutrition and is delivered in a vibrant and entertaining style.
Until our society stops perpetrating acts of violence to support our lifestyle choices, we will never be free of violent acts like those we have recently witnessed. VegWorld Magazine is doing its part to spread the word of compassion. Will you listen?
For more information about VegWorld Magazine, visit http://www.vegworldmag.com