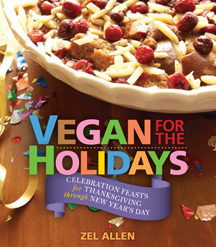 With just the right amount of healthful decadence, these memorable holiday fare can be enjoyed with guilt-free gusto by family and friends.
Summertown, TN (PRWEB) November 30, 2012
Vegan holiday recipes can easily hold their own as illustrated in Zel Allen's new cookbook, Vegan For The Holidays. Vegans, cooks needing to prepare something special for guests who eschew dairy, cheese and meat—as well as anyone looking for more healthful options during this season of abundance—are presented with a banquet of irresistible heritage dishes—some dating back to earlier centuries—imbued with novel touches. Zel, co-creator of Vegetarians in Paradise, demonstrates a surprisingly broad array of flavors and creativity to the typical holiday fare that will delight family and friends of every dietary persuasion.
An expert at vegan cooking, Zel takes pleasure in preparing celebratory meals that stand apart from day-to-day fare and look extravagant without extra expense. From entrées and side dishes to beverages and desserts, Zel created modern food traditions as delicious and elegant as their conventional animal-based counter parts. From Thanksgiving onto Hanukkah, Christmas and Kwanzaa up to New Year's Day, innovative updates to signature dishes capture each holiday's traditions and culture.
Readers will find it easy to assemble a party menu as well as plan a multicourse feast. Pear & Butternut Bisque with Cranberry-Pear Compote and Spinach Salad with Beets & Pomegranates are brazenly decked out in bold Christmas colors. Sweet & Sour Cabbage Borscht is an nice accompaniment at Hanukkah for Potato Latkes with Tofu Sour Cream & Applesauce. A Kwanzaa feast may easily include Mustard Greens with Tempeh Bacon and a host of delicious pumpkin dishes. Ring in the New Year with a Hot Spiced Cranberry Punch or Brandied Holiday Nog surrounded by a lavish spread of finger foods. This is just a sampling of the plethora of delicious and highly nutritious possibilities to choose from.
Reflecting the bounty of the harvest, many recipes include fresh fruits and vegetables imbued with the spices and herbs of the season. Simple comfort foods as well as more gourmet creations lovingly grace any holiday table and provide warm, lingering memories. With just the right amount of healthful decadence, this memorable holiday fare can be enjoyed with guilt-free gusto by family and friends.
Book Publishing Company, a community-owned press founded in 1971, published Zel's first book, The Nut Gourmet in 2006. Their main genre in publishing are titles on plant-based cuisine, nutrition and natural health.
Zel partners with her husband Reuben Allen to publish Vegetarians in Paradise, a popular online vegetarian magazine that not only spotlights Zel's humorous illustrations and innovative recipes but offers an amazing resource for everything vegan. She is also the author of The Nut Gourmet cookbook and a frequent contributor to Vegetarian Journal.