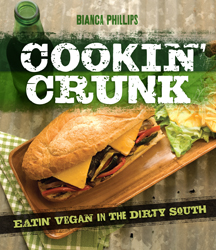 ..keeps the rich and passionate cooking culture of the Dirty South alive and well...and as soulful as ever.
Summertown, TN (PRWEB) September 25, 2012
Eating in the deep south invokes images of collard greens, cornbread, fried green tomatoes and deep-fried everything else with Paula Dean the Julia Child of southern cuisine. For vegan blogger Bianca Phillips—who grew up not too far from the muddy banks of the Mississippi River—giving up the foods she loved since childhood when she became a vegan was not an option. Her debut cookbook, COOKIN' CRUNK: Eatin' Vegan in the Dirty South, allows vegans, vegetarians and anyone interested in healthful eating the opportunity to experience simple soul food dishes that still retain the succulence and decadence associated with southern comfort foods.
Bianca first learned the secrets to down-home cooking in her mama and granny's kitchens when she was knee-high to a grasshopper. As her dietary lifestyles changed, together they co-conspired to create vegetarian and then vegan versions of signature classics that had been in the family for generations. In place of ham hocks, pork sausage, chicken and catfish, plant-based alternatives such as tempeh, tofu, seitan and texturized vegetable protein provide all the chewiness and meatiness required.
Whether it's grits, gravies, and biscuits for breakfast; soups, salads and sandwiches for dinner (aka lunch to most people); or Cheesy Burger Mac, Tempeh Gumbo or Spicy Seitan Hot Wangs for supper with all the fixin's, Bianca shows how easy it is to throw together a satisfying Southern meal with minimal muss and fuss. Staying true to her roots, Bianca recognizes that some foods just beg to be fried and leaves it up to the cook's discretion as to how much oil to use.To make recipes more healthful, Bianca offers a balance of fried dishes and baked alternatives. That leaves room for dessert which can take the shape of cobblers, bread pudding, or dark chocolate bourbon pecan pie.
Now a resident of Memphis, Tennessee, Bianca first incorporated the slang term crunk to convey her passion and excitement about sharing this new style of eating in her blog vegancrunk.blogspot.com. And it was through her blog that she became associated with Book Publishing Company (BPC). Based in Summertown, Tennessee and founded in 1971, BPC was delighted to publish one of the new faces of the evolving vegan scene having published the early soyfood pioneers of the 70s as well as some of today's new generation of vegan chefs. As a health-promoting, ecological, economical and ethical dietary choice, a vegan diet is an important component in any conversation on sustainability. All of BPC's titles can be seen at http://www.bookpubco.com.
Throughout the pages of Cookin' Crunk is an intimate glimpse of Southern lifestyles. The phrase "Dirty South" has more to do with keepin' it real and not straying far from tradition. Drinking sweet tea on wraparound porches, getting lost in the beautiful song of cicadas on humid summer nights, church potlucks, the sacredness of BBQ. Bianca keeps the rich and passionate cooking culture of the Dirty South alive and well...and as soulful as ever.