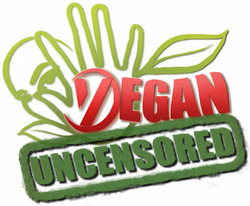 read it, respond to it, pass it on to your friends
La Jolla, CA (Vocus) July 26, 2010
The Vegan Mainstream's (VM) vegan blog is sizzling hot this summer with two new features guaranteed to tantalize the taste buds of new-and-old-school vegans, as well as the vegan curious crowd.
Who doesn't love a good laugh? Don't miss out on Plant Life, Vegan Mainstream's new vegan comic strip full of hilarious – and sometimes serious – observations about the vegan lifestyle. The adventure begins with Andrew, who has just gone vegan, calling his friend and co-worker for help after surviving on salsa and chips all day. As a vegan professional, Andrew has to learn how to balance feedback from both vegan and non-vegan co-workers – and he receives help and ridicule from a cast of co-workers and friends who all weigh in on his decision. Originally published weekly for VM, Plant Life's popularity has skyrocketed, and starting July 26th the Plant Life gang will be featured on VM's blog three times a week (Mondays, Wednesdays, and Fridays). Plant Life artists MC Miller and Jen Hernandez say, "We really enjoy creating Plant Life. It's a challenge but also a great opportunity to make people laugh while bringing awareness to vegan issues."
And who doesn't love a good debate? Anyone looking for some thought-provoking vegan discussion should look no further than Vegan Uncensored. This new column provides a weekly space where people can bring forward interesting vegan-focused topics for debate, and it's already spicing things up! One of the latest cutting-edge chats ventured into the topic of vegan nutrition and the frustration at the lack of vegan doctors (or even vegan-supportive doctors). Readers are encouraged to get involved in the discussion – and submit ideas for Vegan Uncensored topics. Once again VM has found a way to engage directly with the vegan and vegetarian community on hot, must-discuss topics. The column pushes the mantra: "read it, respond to it, pass it on to your friends" – vegan and non-vegan – through Facebook, Twitter or via an email link.
Vegan Mainstream works with clients across all industries to ensure their vegan and vegetarian businesses target the right consumers. VM connects directly with the vegan and vegetarian community through mediums such as vegan blogs (and innovative columns like Plant Life and Vegan Uncensored), newsletters, Facebook and Twitter. Whether it is email marketing, social media, public relations, blogging or integrated marketing strategies that are required, VM's team of experts provide a spectacular marketing service, made possible as a result of VM's core position right at the heart of the vegan and vegetarian community.
About Vegan Mainstream:
Vegan Mainstream provides marketing solutions to vegan and vegetarian businesses. It is a strategic planning and marketing company ready to exceed clients' marketing ambitions for their businesses. Vegan Mainstream was founded by a dedicated vegan with over 11 years of marketing experience with small businesses and Fortune 500 companies. Stephanie Redcross heads up a team of people who are strategic planning, market intelligence, social media, design, search engine optimization and public relations specialists. As a result Vegan Mainstream excels in its ability to combine expertise and provide custom marketing solutions.
Vegan Mainstream can increase customer sales, improve web traffic, manage Twitter campaigns, identify new customers, produce product promotions, oversee campaign management and provide PR placements.
# # #