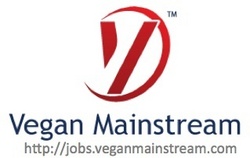 Vegan and vegetarians are in pursuit of careers that support their personal ethics, however, there are limited tools providing a central depository of professional jobs
La Jolla, CA (Vocus) July 20, 2010
Last Christmas job seeking vegan and vegetarian individuals were given a Vegan Jobs Board by marketing company Vegan Mainstream – and six months later the job selection is growing and more successful than ever. With over 7% of the American population now vegan or vegetarian the Jobs Board was celebrated as a new era in job advertising and job seeking. It has continued to expand enabling animal cruelty-free companies to advertise for vegetarian or vegan employees seeking work in ethical businesses.
The Jobs Board advertises an ever-increasing variety and number of jobs – from engineering to IT to arts-based positions – for all types of candidates, whether entry or senior level. Vegan Mainstream's Jobs Board is open to employers all over the world and costs the employer just US$47 for a 30-day listing. This amount not only advertises a vacancy on the Jobs Board, but also syndicates it to vegan and vegetarian forums, social media platforms and Vegan Mainstream newsletters, guaranteeing extra visibility. An easy application process also means that employers have the hard work done for them since candidates apply online via the job board.
"Vegan and vegetarians are in pursuit of careers that support their personal ethics, however, there are limited tools providing a central depository of professional jobs," says Stephanie Redcross, Managing Director of Vegan Mainstream (VM). "By using our Jobs Board, businesses no longer have to rely solely on word-of-mouth to find vegan or vegetarian employees – it puts the power back into the small business owners' hands."
In addition, VM's vegan blog launched a weekly Vegan Jobs Column with funny and/or interesting comments on the vegan workplace, the vegan marketplace and vegan jobs. This weekly post reminds readers of the new jobs listed on the job board.
Vegan Mainstream works with clients across all industries to ensure their vegan and vegetarian products and businesses impact mainstream markets. The Vegan Jobs Board complements Vegan Mainstream's mission to foster mutual support among cruelty-free businesses, enabling people with similar values to promote each other professionally and economically.
About Vegan Mainstream:
Vegan Mainstream(VM) is taking vegan and vegetarian business networks by storm with services to help promote and drive vegan awareness inside and outside the veg community. VM connects directly with vegan and vegetarian consumers and professionals through a variety of platforms, like the VM vegan blog (which includes innovative columns like Plant Life and Vegan Uncensored), newsletters, Facebook and Twitter. Vegan Mainstream's marketing division works with clients across all industries to ensure their vegan and vegetarian businesses target the right consumers. Whether it is email marketing, social media, public relations, blogging or integrated marketing strategies that are required, VM's team of experts provide a spectacular marketing service, made possible because of Vegan Mainstream's core position right at the heart of the veg community.
# # #