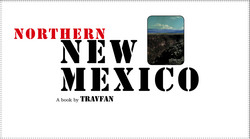 Tucson, Ariz. (PRWEB) August 14, 2008
NueVer LLC, a Tucson based indie publishing company announces the publication of TravFan's new Vegetarian Travel E-Book, Northern New Mexico; now available at NueVer.com.
TravFan's Northern New Mexico guide for vegetarian travel covers the best places to stay in Albuquerque and Santa Fe as well as great cafes and restaurants featuring vegetarian and vegan options. Also included is Santa Fe's Indian Market, featuring the finest in native arts and crafts, in the beautiful desert summer and suggestions for snowy mountain fun in the winter around Santa Fe and Taos' landscapes.
Each section in TravFan's book is filled with vivid photos from her trips around Northern New Mexico.
NueVer has found both the tech savvy and beginner 'web browser' is captivated and entertained by our E-Books' power to delight the imagination. We work closely with our authors to perfect their work and to distribute it to a diverse global audience who would otherwise never be able to enjoy their varied, creative and exceptional talent.
NueVer is currently accepting authors' submissions.
# # #