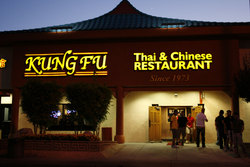 "Social media provides us an opportunity to connect with our guests any time, whether they are in the restaurant, ordering from a hotel room on the Vegas "Strip", or just curious to learn something new about Asian cultures. We learn from them."
Las Vegas, NV (PRWEB) February 18, 2011
Kung Fu Plaza, which is the oldest and most authentic Chinese and Thai restaurant in Las Vegas, will begin offering free WiFi for patrons, beginning in late February. WiFi passwords will be posted on two social networks, Facebook and Twitter.
"We began experimenting with social media and social networks earlier last year, and want to give something back to our new friends," said Alan Wong, general manager of Kung Fu Plaza. "We have been inspired by their feedback and are especially grateful for the people who have left reviews, which helped us become a 2010 and 2011 Talk of the Town Award recipient."
Kung Fu Plaza was notified of the award in January. Talk of the Town bases ratings on a compilation of more than a dozen different customer review sites, including Yelp, Insider Pages, Angie's List, Google Maps, Google Places, City Search, Yahoo Local, Merchant Circle, Judy's Book, Respond, and Enetez. Kung Fu Plaza is the only Asian restaurant in Las Vegas to receive the honor with two culinary specialities (Thai and Chinese).
Wong said that the restaurant reviews inspired his family-owned business to work even harder to provide exceptional service and quality. The reason, he said, is because the more time he has spent online, the more he feels connected to his customers.
"Most restaurant owners think of their guests as their customers the moment they walk in the door," says Wong. "Social media provides us an opportunity to connect with our guests any time, whether they are in the restaurant, ordering from a hotel room on the Vegas 'Strip', or just curious to learn something new about Asian cultures. We learn from them."
As a small business, Kung Fu Plaza doesn't have a big presence like a large corporation but that is not the real purpose of social networking. He says about 500 or so guests are connected to various social networks, including his restaurant's blog, (http://www.adventuresinkungfu.com), which serves at its social media hub.
"I have no desire to become a popular blogger," says Wong. "I only write about one post a month and other team members contribute too. Sometimes we talk about the restaurant like when Austin 'Chumlee' Russell from the reality documentary series Pawn Stars came to visit. Other times we share something about Chinese and Thai cultures. People seem interested. I think it adds to the experience, much like learning the history of Italian restaurants."
Wong says that his initial interaction with guests online has convinced him to invest more time on social networks. In addition to providing free WiFi, he is exploring location-based networks.
"'Kung Fu', in Cantonese, means 'to work harder,'" says Wong. "We are working harder every day to make the experience even more memorable. We might be the oldest Thai restaurant in Las Vegas, but we also know that age alone will not make you the wisest. Only guests can do that."
To review a complete menu, visit http://www.kungfuplaza.com. Kung Fu Plaza delivers within a three-mile radius and is located at 3505 S. Valley View Boulevard, which is just a few blocks west of the Fashion Show Mall on the Las Vegas Strip. For reservations, call 702-247-4120. Founded in 1973, Kung Fu Plaza is the oldest and most authentic Chinese and Thai restaurant in Las Vegas. It is open daily from 11 a.m. to 11 p.m, offering guest dining, takeout, delivery, and catering. The average entree is under $10 and most patrons order family style.
###