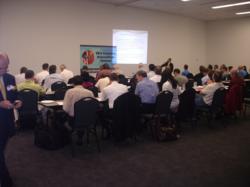 The Seminar was a very interesting, informative and productive meeting. The presentations were excellent and it also afforded us the opportunity to meet a number of professionals who have strong relationships and contacts in China.
Las Vegas, NV (PRWEB) May 05, 2011
Chinese and American expert speakers from a range of disciplines will address "Selling US Real Estate to Chinese and Asian Investors" at a Wednesday May 25, 2011, seminar in Las Vegas, Nevada, Artisan Business Group, Inc., announced today. Presenters include well-known international real estate, legal, taxation professionals such as: Brian Su, CEO of Artisan Business Group, Inc.; Anton Qiu of TRI Commercial; David Hirson of Fragomen, Del Rey, Bernsen & Loewyl; Brian Rowbotham of Rowbotham & Company; Brian Terwillier of NES Financial; Lu Sun of MasLink Group (China); John Li of Do Business in China.
According to a recent report issued by American Chamber of Commerce in Shanghai "China has emerged as an increasingly important investor in the U.S. economy... China's 2009 U.S.-bound FDI figures between US$3.9 billion to US$6.4 billion representing at least a 300 percent increase over 2008 levels." China has been the fastest growing international investor of US realty for last ten years and Chinese interests in investing US properties continue to grow. The current real estate crisis in the US has created tremendous opportunities for Chinese companies and high net worth investors and they are investing in hotels, office towers, shopping centers and residential properties!
The one day Las Vegas seminar will provide the latest market, legal and taxation information and updates to real estate and legal professionals who are interested in serving Chinese and Asian business and individual clients, including:
Commercial Real Estate Developers: learn how to promote commercial real estate properties to Chinese and Asian corporations that are planning to do business in the US
Real Estate Agents and Brokers: find out how to effectively selling real estate properties to Chinese and Asian investors by learning their cultural issues and major legal and taxation concerns
Business Professionals: learn how to efficiently promote professional services to Chinese and Asian investor clients who are seeking new investment opportunities in US real estate industry.
"The economic downturn in the US and strong Chinese currency have created a lot real estate investment opportunities for Chinese companies and individuals who turn to America for new business. We've seen a lot interests from Chinese businesses and wealthy investors in past five years" said Brain Su, a Sino-US investment expert speaking at the seminar. "Every day we learn something new about the US real estate market. This seminar will help more real estate developers and brokers to promote real estate projects and business to Chinese investors."
Registration for the Las Vegas Seminar at Clarion Hotel by the strip in Las Vegas, Nevada, is now open at http://www.AttractAsianInvestors.com. Space is very limited, register today, group rate is available!
###