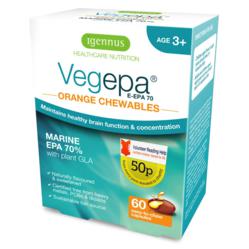 Cambridge, Cambridgeshire (PRWEB UK) 9 October 2012
The Better Reading Campaign has launched this autumn to combat the low levels of literacy amongst children, with one in five primary school children not reaching the required standard. The campaign is calling for an improvement in support for children who have fallen behind with their reading, by introducing more one-to-one volunteer helpers to develop enthusiasm, confidence and ability.
Behind the partnership is Igennus Healthcare Nutrition – a specialist nutrition company, and Volunteer Reading Help – one of the UK's leading children's literacy charities. As part of the Vegepa & VRH Better Reading Campaign Igennus will be donating 50 pence to VRH from each box sold of its leading health supplement Vegepa E-EPA 70 Orange Chewables.
Established in 1973, VRH is a national charity that trains and supports volunteers to work in primary schools with thousands of children who have fallen behind with their reading, on a one-to-one basis to help develop enthusiasm for reading, as well as confidence and ability.
Over 88,000 children left primary school last year without reaching the required literacy standard (this equates to 1 in 5 children).
Strong evidence points towards a link between low literacy levels, underachievement and crime in later life; with 60% of prisoners having difficulties with basic literacy (1) and a quarter of young offenders having reading skills below the average seven year old.(2)
The children VRH help are struggling with reading and urgently need one-to-one support. Many are living in households experiencing poverty and hardship, and their time with their reading helper can sometimes be the only one-to-one attention they receive in their lives. The relationship that develops as a result of VRH's intervention almost always has a positive and long lasting impact on their lives.
VRH reading helpers support the same children week in, week out, giving each child an hour of quality, one-to-one time. With access to a library of books and games at their local branch they can tailor their sessions to best support the children they work with. With the support of VRH a child's approach to reading and learning is transformed, standards improve and they grow in self-esteem and confidence.
VRH are currently working in over 1000 schools and supporting over 6,300 children twice-weekly thanks to the help of 2,138 volunteer reading helpers. By the end of 2016, VRH are aiming to be working with almost 10,000 children with the support of over 3000 reading helpers.
Vegepa E-EPA 70 is a highly concentrated fatty acid supplement containing a patented blend of 70% ethyl-EPA and anti-inflammatory GLA. EPA is a unique type of omega-3 fatty acid renowned for its neuroactive properties (moderating cognitive function), extracted from anchovy oil and purified to a highly concentrated form suitable for clinical dosing.
Steve Hawe, VRH Director of Fundraising and Communications, commented: "Volunteer Reading Help is extremely excited to be launching this partnership with Igennus Healthcare. It is only with the help and support of companies like Igennus that we are able to continue our vital work."
Mina Nazemi, UK Manager and spokesperson for Igennus, commented: "We are delighted to be partnering VRH and donating funds to help the charity provide invaluable support and development for children. With mutually aligned goals, we hope to contribute to raising awareness of issues relating to children's literacy. It's clear that these are problems which need to be addressed with long-term solutions, and the phenomenal impact of VRH's work is evidence of this – not just at the individual level, but the wider social and economic impact too."
Vegepa E-EPA 70 Orange Chewables are priced at £10.99 for 60 x 460 mg capsules. Available from shop.igennus.com & independent health food stores & pharmacies.
For further information, images or product samples please contact Mina Nazemi on 0845 1300 424 or email minan(at)igennus(dot)com.
References:
1. http://www.literacytrust.org.uk/assets/0000/0422/Literacy_changes_lives__prisons.pdf
2. http://www.literacytrust.org.uk/assets/0000/0422/Literacy_changes_lives__prisons.pdf
About Igennus Healthcare Nutrition
Igennus Healthcare Nutrition specialises in the production of clinical-grade EPA-based supplements, offering natural and science-backed solutions for health, alone or in conjunction with standard and complementary therapies. We are proud to have pioneered a new phase of purified ethyl-EPA products, which started with our first patented product Vegepa E-EPA 70. All of our products contain EPA only omega-3 from sustainable marine anchovies – ultra-pure, pharmaceutical-grade and free from PCBs, mercury and dioxins.
Used and endorsed by world-leading authorities on fatty acids – both for research and clinical purposes – Vegepa E-EPA 70 is taken by thousands of people for a variety of conditions. Vegepa has been recommended in peer-reviewed scientific journals, as well as having received worldwide media attention for its clinical efficacy, including national print media, radio and television coverage.
Website: http://www.igennus-hn.com. Order line: 0845 1300 424.