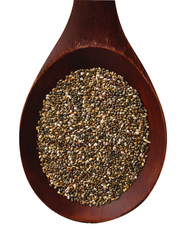 Fargo, ND (Vocus) November 24, 2009
The Chia Pet™ is a popular novelty toy that grows chia seeds on a pottery planter in the shape of animals, cartoon characters or former United States presidents. But what is not as well-known is this amusing little seed leads a double life as a superfood that is packed with protein and amino acids.
A member of the mint family, the chia plant and has been a food staple for centuries because of its high-energy properties. Known as the running food, its use as an endurance food has been recorded as far back as the ancient Aztecs. In fact, the Aztec warriors subsisted on the chia seed during conquests.
Kurt Cameron, Product Developer, explains why chia seed oil is a vegetarian option for essential fatty acids. "Chia seed oil is the best non-fish source of Omega-3 essential fatty acids. It contains more Omega-3s than any natural source, plus it has a healthy balance of caffeic acid and tocopherols, which function as antioxidants. Our Swanson EFAs 100% Pure Vegetarian Chia Seed Oil is produced by solvent-free supercritical CO2 extraction to retain optimum nutrient levels and comes in a vegan-friendly softgel."
Swanson Health Products is an industry leader in bringing vitamins direct to consumers at the lowest prices possible. Swanson Health Products, located in Fargo, ND, offers the highest quality vitamins, supplements and natural health care products. Swanson Health Products goes a step beyond its competitors by offering powerful guarantees. All products are backed by a 100% Satisfaction, Money-Back Guarantee and Double the Difference Lowest Price Guarantee. For more information, please visit swansonvitamins.com.
# # #