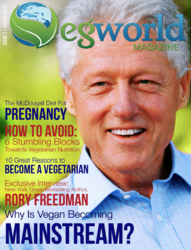 I LOVE this magazine. It's a must for any vegetarian or vegan to have in their library

- Linda Kordich (wife of Jay Kordich, the Father of Juicing)
Los Angeles, California (PRWEB) September 12, 2012
VegWorld Magazine is the next evolution in veggie living. It is the only vegetarian magazine to connect its readers every month with the top authors, chefs, doctors and luminaries in vegetarian living. The magazine goes well beyond the typical vegan recipe publication. Each issue is loaded with the latest scientific research on plant-based nutrition and is delivered in a vibrant and entertaining style.
VegWorld Magazine debuted in August at the top of Apple's Newsstand charts in health-related magazines. Readership is already taking off, with about 100 downloads a day since the magazine first premiered.
"Today's world is hungry for cutting-edge information on veggie living. VegWorld Magazine delivers that information in the most accessible, interactive, and advanced way possible," explains Steve Prussack, Editor-In-Chief and founder of the magazine. The vegetarian lifestyle has, in fact, caught the attention of the mainstream, with world leaders and high-profile celebrities such as President Bill Clinton, Ellen DeGeneres and Madonna practically lining up to tout its benefits. VegWorld Magazine was created by Prussack's Raw Edge Productions to deliver the vital information people need to know to make a switch to this growing lifestyle.
Prussack was a natural to launch the magazine. Vegan himself for over 18 years, Prussack has hosted an award-winning vegetarian radio show for nine years and has produced the world's largest vegetarian multi-speaker summits in history to audiences of tens of thousands. He brings to VegWorld Magazine access to the most notable leaders in the field. "The idea is to fill the magazine with articles from the leading minds along with videos to prepare delicious foods. To me, this is a formula that can't fail."
The magazine is currently produced exclusively for Apple's iPad, and is available in the Apple Newsstand. Raw Edge Productions is working to expand distribution.
"I see the need to get this magazine out to more people," says Prussack, "and we don't want technology to be a barrier to access. We are working to expand digital delivery to the iPhone, Android, PC, and iPod. We want to have all bases covered".
The magazine includes contributions from such respected experts and leaders as Dr. John McDougall, Dr. Neal Barnard, Kathy Freston, Rory Freedman, Dr. Jameth Sheridan, Dr. Will Tuttle, Dr. Thomas Lodi, Jay "Juiceman" Kordich, and many others.
For more information about VegWorld Magazine, visit http://www.vegworldmag.com
About Raw Edge Productions
Raw Edge Productions provides the community with an opportunity to connect with leaders in conscious and healthy living utilizing a variety of media platforms (therawedge.net).
Raw Edge Productions produces online world summits, featuring the leading minds in conscious and healthy living. The company produced the world's largest vegetarian conferences, Veganpalooza: 2012 Vegetarian World Summit and Rawpalooza: 2012 Raw Food World Summit. The company also produced the world's first raw-food radio show, the critically-acclaimed Raw Vegan Radio.