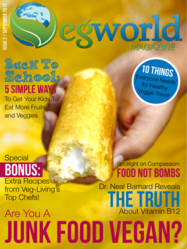 VegWorld Magazine is perfect for a vegan, vegetarian, or anyone who wants to become more informed about making better choices for their health and lifestyle.
Los Angeles, CA (PRWEB) October 10, 2012
Earning an average of 100 downloads a day, VegWorld Magazine hit number one in "What's Hot" in Health, Mind & Body this month with the release of its third issue. The vegan magazine also clinched the number six spot in top grossing health-related magazines on the iPad. VegWorld Magazine's decision to broaden its availability beyond the iPad to include iPhone, Android, PC, Mac, and iPod is intended to reach its growing list of avid readers.
"We knew the world was hungry for cutting-edge information on vegetarian living — we just didn't anticipate how hungry," explains Steve Prussack, Editor-In-Chief and founder of the magazine. "Now everyone who wants to dive into this lifestyle can do it in style. And that's exactly what we intended."
In fact, with more high-profile celebrities climbing on board, the vegetarian lifestyle is the hottest trend right now. So is VegWorld Magazine, according to its reader's reviews. "The future of Vegan is here," proclaims one 5-star reviewer. Another is "blown away by this magazine" which offers "everything [she] needed." The magazine has garnered a stream of 5-star reviews since its inception by readers similarly "blown away" by its features and cutting-edge delivery.
VegWorld Magazine's unprecedented popularity is not surprising. The self-proclaimed "evolution of veggie living" is the first of its kind. Fully interactive, every issue of VegWorld Magazine contains videos, audios and links that bring the magazine's readers up close and personal with top chefs, doctors and leading authors — right from their iPad, mobile device or PC. The magazine goes well beyond the typical vegan recipe publication. Each issue is loaded with the latest scientific research on plant-based nutrition and is delivered in a vibrant and entertaining style.
The magazine includes contributions from such respected experts and leaders such as Dr. John McDougall, Dr. Neal Barnard, Kathy Freston, Rory Freedman, Dr. Jameth Sheridan, Dr. Will Tuttle, Rich Roll, Dr. Caldwell Esselstyn, Rip Esselstyn, Jay "Juiceman" Kordich, and many others.
For more information about VegWorld Magazine, visit http://www.vegworldmag.com.
About Raw Edge Productions
Raw Edge Productions provides the community with an opportunity to connect with leaders in conscious and healthy living utilizing a variety of media platforms (therawedge.net).
Raw Edge Productions produces online world summits, featuring the leading minds in conscious and healthy living. The company produced the world's largest vegetarian conferences, Veganpalooza: 2012 Vegetarian World Summit and Rawpalooza: 2012 Raw Food World Summit. The company also produced the world's first raw-food radio show, the critically-acclaimed Raw Vegan Radio.
Its CEO, Steven Prussack, is the author of "The Complete Idiot's Guide to Juice Fasting," available for pre-order today on Amazon and in book stores worldwide November 6.