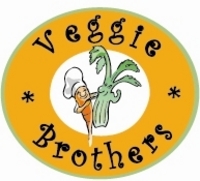 We offer delicious food that people already know, love, and enjoy, and doesn't require anyone to give up their culture or traditions
Bradley Beach, NJ (PRWEB) October 26, 2009
Since 2006, there has been an increase of over 2 million more people who have adopted a vegetarian lifestyle, according to a national poll conducted by Harris Interactive on behalf of the Vegetarian Resource Group. To meet this need, Veggie Brothers, an online vegan restaurant founded in 2005, offers complete menu items that include vegan desserts, soups, appetizers, side dishes, entrees, and even breakfast items. Their extensive online vegan menu will be especially valuable during the upcoming holiday season when people host family and friends with varied dietary needs.
According to the American Dietetic Association, vegetarian diets have many health advantages including lower blood cholesterol levels, lower risk of heart disease, lower blood pressure levels, and lower risk of hypertension. Veggie Brothers products contain zero cholesterol, are high in protein, high in fiber, and feature healthy organic ingredients.
"We offer delicious food that people already know, love, and enjoy, and doesn't require anyone to give up their culture or traditions," says Michael Balducci, President of Veggie Brothers and a trained Holistic Health expert. "At Veggie Brothers, our food's texture and taste is so authentic, that we have fooled an Italian wedding with our vegan meatballs and a Jewish grandmother with our vegan chicken noodle soup."
Veggie Brothers' wide range of products are hand made, hand packed, and are of superior quality. Additionally, the products' taste, variety of choices, and convenience of home delivery make it easier for people to transition to, and stay on, a vegetarian diet.
Founded in 2005, VeggieBrothers.com is the first and only online vegan restaurant that features vegetarian versions of America's favorite comfort food dishes -- more than 40 options, prepared by celebrated vegan chef and vegan cookbook author chef Mark Rasmussen, and frozen in vacuum-sealed pouches for easy preparation. The company ships to all 50 US states and Canada.
For a product demonstration, please view Veggie Brothers YouTube Product Demonstration Video.
For more information, visit VeggieBrothers.com, contact Michael (at) veggiebrothers.com or call 877-VEGAN-55.
###