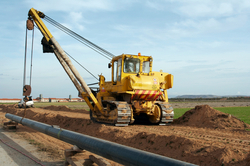 I was stunned by SmartFleet's detailed mapping - we even use it for other business applications
Edmonton, AB (PRWEB) October 28, 2008
Pipeline inspection firm Gas Trak is taking steps to enhance the safety and security of their workforce and vehicles with the recent deployment of the SmartFleet® vehicle fleet tracking system.
"SmartFleet® provides us with a level of safety that we otherwise wouldn't have," said Peter Wolski of Gas Trak. "I was stunned by SmartFleet's detailed mapping - we even use it for other business applications," added Wolski. "It enables us to locate our staff in the most remote areas and gives me peace of mind that we can find them quickly."
SmartFleet® Manager fleet management software offers complete visibility and situational awareness of Gas Trak vehicles in the oilfields of Alberta and Saskatchewan, and empowers management to monitor fleet safety and vehicle location 24/7. SmartFleet® Manager is also used by Gas Trak as a forensic tool so that they can validate time, location and other factors related to vehicle incidents.
SmartFleet® can also work in conjunction with a work alone solution that alerts key contacts to "man down" incidents. It also supports fleet risk management by providing fleet managers with data to help them manage risk behaviors better, including:

Speeding
Maintenance of vehicles
Vehicle curfews
Vehicle use outside of an approved territory
G-Force incidents
"We also chose SmartFleet because of its flexible data plan," said Wolski. "High frequency reporting provides greater insight into our daily operations and was an important feature not offered by other vendors."
The SmartFleet® fleet tracking system is versatile in its ability to operate on a range of cellular (CDMA and GSM) and satellite communication networks. Users can purchase a flexible rate plan that meets their reporting requirements.
SmartFleet® also helps companies operate more profitably by providing business intelligence that:

Improves efficiency/customer service and lowers operational costs through the monitoring of workforce productivity
Mitigates theft and unauthorized use (SmartFleet has recently helped to recover 4 stolen vehicles)
Supports effective management of vehicle curfews and related expenses
About Safefreight:
Founded in 1998, Safefreight is the developer and provider of a vehicle fleet tracking system - SmartFleet®. This telematic technology comprises a web-based GPS vehicle tracking device with asset-to-Internet capability, wireless communications and a web based fleet management application. In addition to strengthening fleet safety, SmartFleet® provides the online tools to optimize the productivity of fleets and drivers. Safefreight serves customers in Canada and the U.S.
###