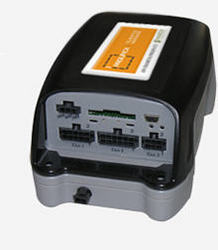 WiFi is a low-cost method of exchanging data that is not time critical (such as log files and engine diagnostics) or for performing over-the-air software updates which would typically not be sent over the GPRS network for cost reasons
Auckland, New Zealand (PRWEB) September 2, 2008
Fleet tracking solutions company, Imarda, has today announced the addition of the Vector 300GWP to its Prolificx Vector 300 range of vehicle tracking devices. A fully programmable, field-proven, hardware platform, the Prolificx Vector 300 range is targeted towards Telematics and M2M application developers.
The Vector 300GWP vehicle tracking device adds WiFi and PLC4Trucks interfaces to the standard Vector 300 series feature set, which already supports GPRS, GPS, J1939, J1708, CAN, Bluetooth and other interfaces.
According to Imarda CEO Selwyn Pellett, the Vector 300GWP has been developed to meet the fleet tracking needs of truck-load and less-than-truckload where trailer tracking is a key requirement. "The inbuilt PLC4trucks interface provides the ability to monitor trailer hook and drops when used in conjunction with a PLC4Trucks compatible Tag fitted to the trailer," explains Pellett. "The PLC4Trucks interface is supported with a full C++.NET API which implements trailer monitoring using Imarda or third party supplied Trailer Tags."
The addition of the WiFi interface enables the cost effective transfer of data from the vehicle's device to a server when the vehicle is within range of an authorised WiFi network. "WiFi is a low-cost method of exchanging data that is not time critical (such as log files and engine diagnostics) or for performing over-the-air software updates which would typically not be sent over the GPRS network for cost reasons," says Selwyn Pellett.
Features of the Vector 300GWP device include:

Windows CE 5.0 plus .NET Compact Framework
Intel PXA270 XScale Processor
20 channel High Sensitivity SiRF STAR III GPS
GSM/GPRS communications
802.11 b/g WIFI
Internal PLC4Trucks reader
Bluetooth
USB Host and slave
Digital and Analog IO
3 Axis Accelerometer
CAN, J1708, J1939 and RS232 interface
SD Card
Supports 12V and 24 Automotive power systems with on-board battery backup and low power wakeup modes
Imarda's global team of transport, logistics, hardware and software experts have developed scalable fleet tracking solutions that can be deployed in small owner operator fleets through to large scale networks. Imarda has over 40,000 Windows CE based vehicle tracking devices deployed globally and is recognized as a leader in fleet and logistics management.
For more information about the Vector 300GWP visit http://www.prolificx.com.
# # #