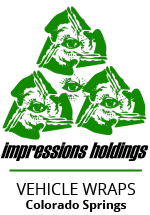 Impressions Holdings has lent its expertise to Vehicle Wraps Colorado Springs and is now launching their new website.
Colorado Springs, Colorado (PRWEB) June 26, 2013
As a leading specialist in online business marketing solutions, Impressions Holdings has lent its expertise to Vehicle Wraps Colorado Springs, and is now launching their new website. Promoting a business successfully online is essential in these technological times. Impressions Holdings understands the importance of constructing a strategic campaign of online marketing in order to maximize the web presence and prominence of a business. The results in terms of revenue and expansion in client base are beyond doubt and for Vehicle Wraps Colorado Springs, the launch of their new website is the beginning of an exciting new era in their business development.
Vehicle wrapping has exploded in popularity over the last few years and Impressions Holdings is helping firms catch up by developing a strong multimedia presence. Vehicle Wraps Colorado Springs' new website shows the range of services they offer their customers. The quality of their work is immediately obvious from the scrolling images on the home page and the gallery of recent work reinforces this message. From working with individuals to large-scale projects for corporations, their skills and experience contribute to success in any context.
For larger businesses involving multiple vehicles, like bus companies and cab firms for example, fleet wraps can help to emphasize a corporate image and enhance existing advertising success through commercial marketing. For small businesses, vinyl wraps on the side of delivery vans or commercial vehicles is an effective way to advertise on a local level. Existing logos can be incorporated into wraps or custom artwork can be designed for you; the options provided by the experienced team at Vehicle Wraps Colorado Springs are varied.
Their expertise is not restricted to projects involving vehicle wraps; the website gives details of services in vinyl sign production, making Vehicle Wraps Colorado Springs an ideal company to cater for all your business signage needs, whether vehicles are part of your enterprise or not.
For individuals, cutting edge vinyl wraps are available to instill a sense of high-end style in your vehicle's appearance. Think 21st century James Bond sophistication, or Formula 1 glamour.
If a vinyl wrap for your vehicle is just what you or your business requires, visit the new, exciting website at VehicleWrapsColoradoSprings.com and see evidence of their quality, skills and experience for yourself.