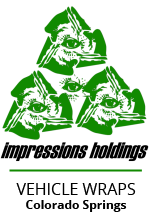 Colorado Springs, CO (PRWEB) June 27, 2013
Impressions Holdings has facilitated the expansion and development of numerous organizations through its unique approach to successful online marketing and business progression strategies. Its particular service helps companies to grow and develop within specific industry niche networks, including Vinyl Wraps for Cars. The rationale behind this network is to provide consumers with the best services in vehicle vinyl wraps in different locations right across the country.
The latest successful addition to this nationwide network is Vehicle Wraps Colorado Springs. The team at Vinyl Wraps for Cars considers many contenders before announcing new additions to its network, making sure that the company has sufficient expertise in the field to be a good enough representative. Vehicle Wraps Colorado Springs impressed on many levels, showcasing its expertise and skill through an extensive portfolio of previous work. Its inclusion in the Vinyl Wraps network has only enhanced its standing in the Colorado Springs region as one of the finest providers of vinyl wraps.
The new website for Vehicle Wraps Colorado Springs, developed and designed by Impressions Holdings, is one element of an impressive integrated online marketing campaign designed to create a strong web presence for the company as it moves forward. Such effective marketing which gives measurable results in terms of expanding a client base and increasing revenue is essential to increase a company's industry standing. This was certainly the case for Vehicle Wraps Colorado Springs and has paid off in its induction to the Vinyl Wraps for Cars network.
Impressions Holdings has an impressive track record in driving forward the development of the businesses it works with. Its team of talented professionals works to maximize the potential of its clients, and with such support in place, Vehicle Wraps Colorado Springs will undoubtedly continue on its successful trajectory.