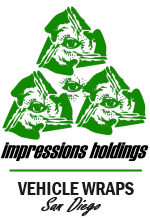 San Diego, California (PRWEB) June 05, 2013
The Vinyl Wraps for Cars Network is proud to announce that Vehicle Wraps San Diego has recently joined their network of the best car wrap teams in the country with the help of Impression Holdings. Joining other teams such as Vinyl Wrap New York and Car Wrap Denver, Vinyl Wraps San Diego joins a network dedicated to innovation and precision when wrapping cars.
With beautiful weather all year round, and a laid-back attitude, San Diego is the perfect spot for vinyl wraps. Because of this, Vehicle Wraps San Diego has had a lot of experiences and looking through their portfolio, it definitely shows!
Over the years, Vinyl Wraps for Cars has built up a reputable reputation as a company that takes pride in their work. San Diego is a great addition to this network because of the dedication they provide to their customers. Specializing in mobile design and wraps, customers know they're in good hands when coming to Vehicle Wraps San Diego.
All this couldn't have happened without Impressions Holdings. An online marketing company, Impressions Holdings brought the two companies together. Specializing in networking, branding, and innovation, Impressions Holdings isn't your typical marketing company, and they wouldn't want it any other way. Impressions Holdings focuses on small businesses and new creative ways to advertise them on the internet. Facing big-name competitors, Impressions Holdings wants to work with smaller companies to make sure that their voice is heard and their brand is seen.
For more information on Vehicle Wraps San Diego, check out the page about them on the Vinyl Wraps for Cars website: http://www.vinylwrapsforcars.com/portfolio/vehicle-wraps-san-diego/.