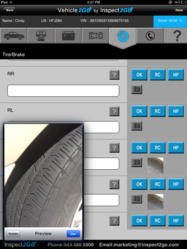 Vehicle Inspections go Paperless with Mobile Devices
Orange County, California (PRWEB) February 28, 2013
Inspect2GO launches new vehicle inspection software for the iPad. Vehicle2GO (http://www.inspect2go.com/vehicle2go/) walks the inspector through a list of vehicle service related questions. The condition of each item can be logged along with corrective actions and photos. Vehicle2GO is available for download from iTunes at no charge. After the first ten reports, an in-app purchase is required to continue use of the app.
Custom versions (http://www.inspect2go.com/inspection/vehicle/) are also available with cloud storage, reporting and document management. Clients automatically generate and store electronic records with the app. Vehicle2GO saves time by generating a PDF reports directly from the iPad and eliminating manual paperwork.
DOWNLOAD APP:
Tap the link below to download the trial version from iTunes:
https://itunes.apple.com/us/app/vehicle2go/id520473590?mt=8
VEHICLE2GO IPAD APP INCLUDES

Information Screen (VIN, License, etc.)
Help buttons
Photos
Notes
PDF Reporting
"OK", "Recommended" and "High Priority" buttons
APP SUBSECTIONS

Interior/Exterior
Engine Bay
Battery
Under Vehicle
Tire/Brakes
CUSTOM CAR/TRUCK INSPECTION SOFTWARE
Inspect2GO also develops custom software for Android, Windows and iOS mobile devices, tailored to other vehicle inspection processes. Specific applications may include:

Vehicle Inspection Checklists
Insurance Applications
Custom Service Department forms
Auto Body
Rental
Dealer
Fleet
CUSTOM CAPABILITIES

VIN
GPS
Reports – Invoices, Timesheets, Work Orders and Commissions
Custom Document Management Systems
Price Estimates
ABOUT INSPECT2GO
Inspect2GO, Inc. is a mobile application, cloud database and software development company based in Southern California. The firm's mobile technology includes inspection checklists and native apps with signature capture, photo taking and data collection functions. Custom audit rating and scoring functions are included. PDF inspection reports are generated from the mobile device, or from data stored on cloud servers. The software is compatible with Apple iOS (iPhone, iPad), Windows 8 mobile devices and Android tablets. Inspection results are sent to Inspect2GO's cloud database, or to customers' servers for storage. Advanced features include data charting, graphing and document management. Reports, trends and data feeds can be retrieved from the cloud server via a browser-based web portal. The software is not available on iTunes or the Android Marketplace. Instead, customers contact Inspect2GO directly to have the software tailored to meet their unique needs. Read disclaimers on all Inspect2GO applications before using them.