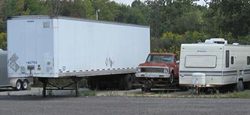 This is the only convenient facility we've found for very large storage items
Cleveland, OH (PRWEB) September 2, 2010
Access Outdoor Storage provides secure and accessible parking for boats, recreational vehicles (RVs), cars, travel trailers, campers, motor homes, and trucks. of all sizes The new facility is completely lighted and fenced, with gated keypad access offered to customers 24 hours a day, seven days a week.
At 18 acres, it is the largest facility of its kind in Northeast Ohio. The size of this new storage facility allows storing items others must turn away, including cranes, earthmovers, buses, manufactured homes, construction materials, large storage containers and mobile offices. It can also accommodate fleets of automobiles or semi trucks and trailers.
Owners can remove stored items or deliver equipment round the clock, seven days a week. It is ensured other equipment does not block in stored objects. This access allows commercial customers to use Access Outdoor Storage as a staging area for vehicle fleets or construction equipment and materials. Businesses from out of town can use the facility as a temporary staging area for projects in Northeast Ohio.
As one client stated, "This is the only convenient facility we've found for very large storage items."
All stored items are protected by 24-hour video surveillance, with several levels of security provided within the complex. Access Outdoor Storage offers a range of additional storage services, including:

Black / grey water discharge
Plug-ins available
On-site mechanical services
Equipment loading and unloading services
Shipping and receiving services
Use of loading dock and towmotor
Economical storage plans by the week, month or year are offered. The new storage site is permitted for the parking of over 500 semi-trucks and trailers.
About the Company
Access Outdoor Storage features a large, secure storage area providing short or long-term parking and storage of any vehicle of any size, including oversized or odd-shaped items. With 18 acres of secure, fenced storage, it can store hundreds of personal or commercial vehicles while allowing owners complete, 24/7 access. Onsite management is available Monday through Friday from 7 a.m. until 6 p.m.
Located in Hinckley, Ohio, the company is located 19 miles from downtown Cleveland, one mile from I-71, just 10 miles from Cleveland Hopkins Airport near State Route 303. For more information, please go to http://www.accessoutdoorstorage.com.
# # #