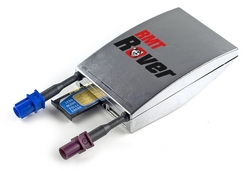 Fort Collins, CO (PRWEB) October 7, 2008
From testimonies at the speeding trial of 18-year-old Shaun Malone in Sonoma County, Calif. (Originating Citation and Court case #PET416346; Superior Court of California County of Sonoma Traffic Division), it emerged that Rocky Mountain Tracking's GPS device may have helped uncover an illegal speed trap.
Malone had been charged with driving at 62 mph in a 45-mph zone, but Roger Rude, who had installed the Rocky Mountain Tracking GPS in his car to monitor his driving, found he had been driving at, and not above, the speed limit. The device reports speed, location, date and time at set intervals. A history report from the device has left a trail of evidence to back Malone.
Rude, a retired sheriff's lieutenant of 32 years, bought the RMT Rover GPS vehicle tracking system to encourage his step-son to drive safely. The device which Malone once thought to be his enemy has now come to his defense.
The officer testified on the stand that he believed the GPS was accurate. He also admitted that the radar reading indicated on his radar gun could have been caused by something else other than Shaun's car.
The GPS had already been validated for accuracy from an expert. Dr. Stephen Heppe said on the stand that the Rocky Mountain Tracking's device was "very accurate," and that it released instantaneous, as opposed to averaged, data.
Averaged data seems to be more the problem with the stretch of highway that Malone's attorney called an illegal speed trap. Andy Martinez said that the state's study of driving speeds illogically averaged the speeds on two different sections to come up with the speed limit. Setting the speed limit below the average speed of most motorists on a specific stretch amounts to an illegal speed trap. This could invalidate hundreds of speeding tickets issued in the same area, including Malone's.
The court has not yet made a final ruling, and may not make one until December.
About Rocky Mountain Tracking, Inc.:
Rocky Mountain Tracking was founded in 2003, and our headquarters are based in Fort Collins, Colorado. RMT is the leading GPS tracking device provider in the United States. NavIQ, RMT's state-of-the art tracking solution, has become increasingly popular for vehicle tracking, vehicle recovery and the tracking of people nationwide. NavIQ is a robust, yet economical tracking software. This software is the foundation for our first-rate GPS vehicle tracking system selection. RMT's GPS hardware has met strict testing and certification standards. RMT's mission is to provide a high quality and affordable tracking solution for every application using the latest technology.
###