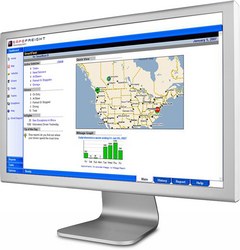 SmartFleet® Manager V.5 adds powerful innovations in how users leverage real-time fleet information to operate and manage vehicles and drivers
Edmonton, AB (PRWEB) March 25, 2008
Safefreight Technology today announced that SmartFleet® Manager version five (V.5) is live to their customers. SmartFleet® Manager V.5 extends Safefreight's leadership in online GPS tracking software to provide meaningful real-time information about the safety, security and productivity of vehicles and other mobile assets - and the workforce operating them.
Enhancements to SmartFleet® Manager V.5 were based on the feedback of Safefreight's clients and business trends that resulted in an improved online software service. With SmartFleet® Manager, Safefreight's customers can further refine and improve their own fleet operations through vehicle tracking and fleet management on-demand through a web portal.
Some of the new features of SmartFleet™ Manager V.5 are:

Routing optimization - generate and optimize routes and send turn-by-turn directions to drivers in real-time
Find Nearest - enables more efficient deployment of fleet assets
Ability to visualize SmartFleet® data in Google Earth
Quicklinks provides users with the ability to customize menu structure to their needs and provides more workspace in the application
Enhanced fleet reports that are easier to read and interpret
A customizable service scheduler that uses odometer, engine hours or elapsed time values to identify vehicles that require servicing (minimizes unscheduled maintenance, costly repairs and downtime)
Speeding alerts based on available road attributes
Giant Maps - Rich mapping supports maps of any size - ideal for plasma or LCD monitors up to 42" diagonal
"SmartFleet® Manager V.5 adds powerful innovations in how users leverage real-time fleet information to operate and manage vehicles and drivers," said Earl Bourque, Safefreight's Chief Technical Officer. "It empowers businesses by enabling users to manage their fleets directly online to improve productivity, safety and profitability across the board," he added.
Through the SmartFleet® vehicle tracking system, critical location and operating information is gathered through a vehicle-mounted device, communicated wirelessly, and served to Safefreight's customers through Safefreight's vehicle-to-internet application, SmartFleet® Manager. Information can be accessed on-demand from any internet enabled computer or device - any time, from anywhere in the world.
About Safefreight
Founded in 1998, Safefreight is a developer and provider of a GPS tracking system for fleets in a range of industries including energy, transportation, retail, hazmat and food manufacturing. Through SmartFleet®, Safefreight provides full fleet visibility and security through telematic technology that integrates an onboard GPS device, vehicle to internet software, and cell or satellite communications. This technology provides situational awareness of vehicles and the workforce operating them so that managers have the tools to optimize their fleet resources, customer service and safety. Safefreight has operations in Edmonton, Portland, Houston, St. Louis and Philadelphia.
###