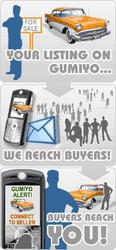 As an inventory management company we are always looking for new places for our dealers to move the inventory
Woodland Hills, CA (PRWEB) August 14, 2007
Gumiyo announced today its partnership with AutoBase.com to bring dealers seamlessly onto the mobile Web. The company will deliver AutoBase's extensive inventory of vehicle listings to interested buyers on the go, making those listing accessible to mobile, online buyers. Buyers can easily set preferences for year, make, model, price range, and geographic radius. Resulting matches will be delivered to the buyer as a text-message the moment those listings are published. In seconds, buyers can review listings on their phones--photos and all--and connect directly with the dealers.
True to the company's tagline "Connecting Buyers and Sellers," Gumiyo gives AutoBase's dealers added communication methods, including text-messaging and web-activated telephony, which enable buyers to reach them directly from a mobile listing. Consequently, targeted listings are not only available to buyers anytime and anywhere, but dealers are available to those buyers anytime and anywhere. The result is the true goal of a classified listing--a connection between a buyer and a seller as quickly and as efficiently as possible.
"As an inventory management company we are always looking for new places for our dealers to move the inventory," states Yago Paramo, president of AutoBase. "Gumiyo is one of the new wave of technology-savvy companies that are applying new communication concepts and tools to online classifieds making them more attractive to the younger part of the online community. Gumiyo offers free basic listings to our dealers and a very low fee for linking the dealer with a potential buyer. That sounded more than fair to us."
Shuki Lehavi, CEO and co-founder of Gumiyo adds, "There are a lot of used car listings on the Internet and it's time-consuming to sift through them. What's worse, if your desired car isn't listed then you'll have to return and conduct your searches all over again in several different sites. AutoBase represents a significant chunk of vehicle listings online. By aggregating them on Gumiyo, routing them efficiently to interested buyers in an unobtrusive manner, and facilitating a direct line of communication between the buyer and dealer, Gumiyo provides a unique value for everyone involved."
Mr. Lehavi goes on to say, "Automotive dealers intuitively understand the value of being available to targeted buyers anytime and anywhere, and AutoBase knows that increasing their dealers' visibility online in a cost-effective manner is critical to success. By catapulting a dealer's online inventory into the mobile space and by doing so in a way that is risk-free to the dealer, we aim to help AutoBase provide even more service to their customers."
About AutoBase Inc.
AutoBase is a full service data collection and distribution service. Our service offers high quality digital photos, custom window labels, compliant buyers guides, data distribution, DMS polling, easy to use Dealer backend reporting / pricing tools and much, much more.
Our representatives provide a professional and reliable service in the following states: Alabama, Arkansas, Arizona, California, Florida, Georgia, Indiana, Kentucky, Louisiana, Maryland, Minnesota, Mississippi, Nevada, New York, Ohio, Oregon, Tennessee, Texas, Utah, Washington. For more information please visit http://www.autobase.com/
About Gumiyo
Gumiyo connects buyers and sellers by extending the traditional online marketplace to mobile phones. Always on and always connected, Gumiyo provides a marketplace that links buyers and sellers in real-time who connect, communicate, and complete the deal.
Founded by Shuki Lehavi and Rich Abronson in Woodland Hills, CA, Gumiyo is committed to revolutionizing the mobile consumer-to-consumer commerce experience. For more information please visit http://www.gumiyo.com/
###