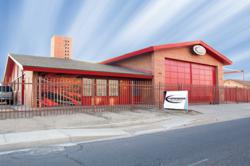 "Customers think our old fire station office is just the coolest thing and with the large truck bays, it is perfect for our target market,"
Phoenix AZ (PRWEB) February 22, 2013
From a small, one-man south Phoenix shop in 1995 to today's state-of–the-art vehicle wrap shop of over 5,000 square feet, 1st Impressions Truck Lettering has grown to be one the busiest, most respected car wrap companies in Phoenix.
Started in the back of a Phoenix body shop, 1st Impressions now boasts of being the only 3M Certified installation facility in Phoenix and was recently awarded the Top Sign Shop Honors by the review site Kudzu.
Housed in a convenient location and a very unique building, it turns out the location is an old Phoenix fire station. Owner Dan Deary loves the charm of the old brick building and how perfect it is for the business. "Customers think our old fire station office is just the coolest thing and with the large truck bays, it is perfect for our target market," he said pointing to a 45' trailer being wrapped inside the work bay.
With it being such a competitive business, 1st Impressions has not only survived over the last 18 years but has emerged as one of the leading vehicle wrap companies in the state. By investing in the latest computers, digital printers and training, they have positioned themselves as the leader in the industry.
Of course nothing is as easy it looks and 1st Impressions has an ongoing marketing effort including an outside salesperson. Deary states "Although we have an enormous amount of loyal, repeat customers, it's important to keep marketing to keep a steady flow of work coming in."
As the company enters into its second decade of business, they are definitely not sitting back on their laurels. They boast of their common ownership of Capitol Collision Repair, one of the largest independent body shops in Phoenix, and also the addition of a new venture, All Pro Fleet Painting, a fleet body shop which repairs fleet vehicles including medium and heavy duty trucks.
For more information about 1st Impressions Truck Lettering or to request an estimate, contact Dan Deary at 602-253-3332 or dan@1stimpressions.com.
About 1st Impressions Truck Lettering
Founded in 1994, 1st Impressions Truck Lettering provides car wraps, truck wraps and nearly any vehicle wrap possible including vans, buses, even tractor trailers with a very high focus on detail and quality workmanship. 1st Impressions is the only USAG and 3M Certified Vehicle Wrap company in Phoenix and one of a limited number in the entire state. They are an A+ rate BBB company. 1st Impressions Truck Lettering offers free pickup and delivery service, onsite installation, expedited fleet service, a convenient location and a team of experts dedicated to service needs.
1st Impressions Truck Lettering
345 North 15th Avenue
Phoenix, AZ 85007
Phone: (602) 253-3332
Fax: (602) 253-4860
Email: info(at)1stImpressions(dot)com
Website: http://www.1stimpressions.com
Facebook: http://www.facebook.com/1stImpressionsTruckLettering
Linkedin: http://www.linkedin.com/company/1st-impressions-truck-lettering
Hours of Operation
Monday – Friday: 8:00 AM – 5:00 PM