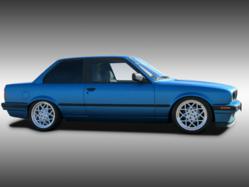 "When you own a brand new Camaro or expensive BMW, of course you're going to be selective who is working on your car and that is where our certification, reputation and years of experience make it a natural for customers to want us to do their work."
Phoenix, AZ (PRWEB) May 01, 2013
1st Impressions Truck Lettering is the only 3M Certified, Phoenix vehicle wraps installer in Phoenix to be offering the increasing popular paint wraps, and the demand is not dying down. Whether you call it a "paint replacement wrap" or "solid color wrapping", this fairly new product is taking the market by storm. It used to be that the only option to change colors on your car was painting, but car wraps are now an option and can be a more cost effective option for this specialized and custom look.
Car wraps can be seen on many high end customer cars and the colors can range from Matte black to electric blue. It's not unusual to see a BMW or other high end car with a custom paint wrap. Recently the 3M certified installers at 1st Impressions wrapped a 2013 Camaro matte black, changing the color from the bright factory yellow to a sleek matte black finish.
1st impressions Truck Lettering opted to get into the paint wrap business after what manager Chris Adell said was almost a daily request for the service via their website. "Although we were not advertising the paint wrap service, we are well known as the only 3M certified Phoenix vehicle wrap company and the customers who want their car wrapped want the best product and service for their car. When you own a brand new Camaro or expensive BMW, of course you're going to be selective who is working on your car and that is where our reputation and years of experience make it a natural for customers to want us to do their work."
And work they have. 1st Impressions Truck Lettering has vehicles lined up for not only truck wraps, but cut vinyl truck lettering and custom work as well, like the carbon fiber hood wrap being completed inside one of their air conditioned work bays, just adjacent to the installation of a 45' semi-trailer wrap installation.
For more information about paint wraps, vehicle wraps or truck lettering, contact 1st Impressions Truck Lettering at 602-253-3332 or more information may be found on their website.
About 1st Impressions Truck Lettering
Founded in 1994, 1st Impressions Truck Lettering provides car wraps, truck wraps and nearly any vehicle wrap possible including vans, buses, even tractor trailers with a very high focus on detail and quality workmanship. 1st Impressions is the only [ USAG and 3M Certified Vehicle Wrap Company in Phoenix and one of a limited number in the entire state. They are an A+ rate BBB company. 1st Impressions Truck Lettering offers free pickup and delivery service, onsite installation, expedited fleet service, a convenient location and a team of experts dedicated to service needs.
1st Impressions Truck Lettering
345 North 15th Avenue
Phoenix, AZ 85007
Phone: (602) 253-3332
Fax: (602) 253-4860
Email: info(at)1stImpressions(dot)com
Website: http://www.1stimpressions.com