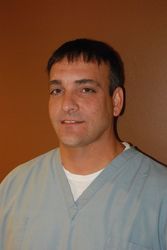 According to Dr. Tracey, "As medical device representatives, we are always traveling and need to be prepared for such emergencies."
Kenner, LA (PRWEB) June 25, 2010
Thanks to the heroic efforts of Dennis Tracey, MD, Medical Science Liaison for VeinwaveUSA, a tragedy was averted and a life saved. On a recent June morning, Mr. Gaylord Hall and his wife were using the check-in kiosk at the Delta ticket lobby, when Mr. Hall suddenly collapsed. Dr. Tracey stepped in and quickly determined that Mr. Hall was not breathing and had no pulse. Dr. Tracey immediately began emergency medical treatment until the on-site paramedics arrived.
According to the Fire Chief at Louis Armstrong N.O. International Airport, Dr. Tracey immediately initiated CPR and took advantage of an on-site Automated External Defibrillator (AED). As a result, the New Orleans Fire Department emergency medical technicians (EMTs) arrived on the scene to find the patient's pulse had resumed as well as spontaneous breathing. Before being transported to the hospital, the patient was conscious and talking. This is an excellent example of what is possible if CPR and AED are initiated quickly along with timely activation of the emergency medical services (EMS) system. Without these actions, this incident could have had a different outcome.
Delta employee Kyla Singleton says, "I myself am so grateful that Dr. Tracey reacted so quickly and was willing to assist Mr. Hall during this grave emergency." Glynda Pace, the Delta Station Manager in New Orleans adds, "I understand the EMTs were on a different concourse assisting another passenger when (Dr. Tracey) took control of the situation in front of our counter. We will definitely ensure the unused ticket is refunded and appropriate bonus mileage is added to his SkyMiles account for that inconvenience. We were truly blessed to have him on the scene Monday."
About Dennis Tracey, MD, MHSA
Dr. Tracey serves as Medical Science Liaison and National Training Manager for VeinwaveUSA. As part of the company's health and wellness program, Dr. Tracey, along with President and CEO Howard Funkhauser, recognized early on the need for company representatives to be prepared for just such situations. As a result, Dr. Tracey instituted a program to conduct First Aid and CPR Training for all VeinwaveUSA representatives; in fact, Dr. Tracey had just recently conducted similar training at one of the company's national sales meetings. According to Dr. Tracey, "As medical device representatives, we are always traveling and need to be prepared for such emergencies." Dr. Tracey holds a Master of Health Services Administration (M.H.S.A.) from St. Joseph's College of Maine, Standish, Maine and a Doctor of Medicine from St. Matthews School of Medicine, British West Indies.
About VeinwaveUSA and Veinwave™
VeinwaveUSA is the Exclusive National Distributor of the Veinwave™ system. Headquartered in Birmingham, Alabama, VeinwaveUSA's President and CEO is Mr. Howard Funkhauser, a former USMC Officer and Naval Aviator. As a seasoned healthcare industry veteran, Mr. Funkhauser's experience has included various executive sales positions within the medical device and pharmaceutical industry. Mr. Funkhauser is a graduate of Texas A&M University and resides with his family in the Birmingham area.
Veinwave™ is the world's most advanced proprietary solution for the safe and effective removal of spider veins and telangiectasia. The Veinwave™ treatment has been used for nearly a decade, by over 1,000 physicians in Europe, and recently received 510k clearance from the FDA to market in the USA.
For more information, please visit http://www.VeinwaveUSA.com or contact VeinwaveUSA directly at (888)MYVEINWAVE or sales(at)veinwaveusa(dot)net.
###