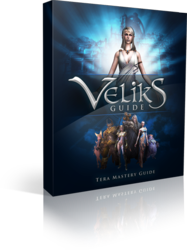 (PRWEB) May 01, 2012
Tera online is a 60 level MMORPG game that is very popular amongst gamers, due to the realistic appearance, the wide variety of actions gamers can take, and last but not least, the captivating plot. However, MMORPG games can turn out to be quite difficult at times, but with the newly launched Veliks Guide all new players can fully enjoy each level.
The Veliks Tera Guide, with more information at veliksteraguide.com, ensures the best gaming experience, this being possible with the easy and effective walkthroughs and PvP guides provided for all levels from 1 to 60. This step-by-step, picture-supported guide is available to help newbies enjoy the game at its fullest by detailing the quest and the main objectives. In addition, it also helps gamers realize the most important skills that help them win any combat. The detailed maps will provide players with useful information regarding routes, secrets and underground areas.
With regards to the team that is behind the Veliks Tera Guide, it is composed of highly experienced players who have dedicated themselves in creating a well-designed, easy-to-follow and complete guide that aims to help players enjoy the game. The team is exclusively formed of professionals in the field of MMORPG games that have tried a variety of strategies. Countless hours of gameplay lay at the basis of this guide, just to ensure that the gamers will fully benefit from the tips and hints that can be found in the Veliks Tera Guide.
The Veliks Guide is designed to train players to become professionals in their chosen class. It provides information about the most useful skills, the most important items that any gamer must own, as well as some precious tips that will make the gamer stand out from the crowd.
For more information, visit http://veliksteraguide.com.