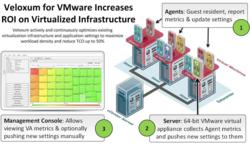 As a member of the Citrix Ready program, we are able to offer customers intelligent optimization solutions that combine Veloxum for Enterprise with XenApp and XenDesktop, said Kevin Cornell, Veloxum's CEO.
Scotts Valley, CA (Vocus/PRWEB) March 15, 2011
Veloxum ™ Corporation, a performance management company, today announced that its Veloxum for Enterprise product, with its patent-pending Active Continuous Optimization (ACO) technology, has been verified as Citrix Ready®. The Citrix Ready program helps customers identify third-party solutions that are recommended to enhance virtualization, networking, and cloud computing solutions from Citrix Systems, Inc. Veloxum for Enterprise completed a rigorous verification process to ensure compatibility with Citrix XenApp™ and Citrix XenDesktop® providing confidence in joint solution compatibility.
The Citrix Ready program makes it easy for customers to identify complementary products and solutions that can enhance Citrix environments. Customers can be confident that Veloxum for Enterprise has successfully passed a series of tests established by Citrix, and can be trusted to work effectively with XenApp and XenDesktop. Veloxum for Enterprise enables its users to optimize complex physical and virtualized infrastructure operating system (OS) configuration settings — allowing enterprises to realize the full potential of their IT infrastructure.
Using Veloxum for Enterprise, Citrix customers can achieve the following benefits:

Increase worker productivity by reducing network lag time to-and-from Citrix hosts
Decrease infrastructure spending by increasing the Citrix clients-to-server host ratio
Reduce trouble-tickets and IT time spend on issues with proactive OS optimization
"As a member of the Citrix Ready program, we are able to offer customers intelligent optimization solutions that combine Veloxum for Enterprise with XenApp and XenDesktop," said Kevin Cornell, Veloxum's CEO. "The offering clearly demonstrates our plans to work closely with trusted partners, through the Citrix Ready partner ecosystem, in order to provide the highest quality experience for our customers."
ACO-powered Veloxum optimization for physical and virtualized server infrastructure
Many organizations have invested heavily in desktop virtualization projects in order to achieve the cost savings presented to them as part of an ROI model. But without continuous tuning of the server platforms that they run on, it is difficult to achieve these results. Veloxum actively and continuously tunes server settings to deliver optimum performance and virtual-to-physical densities. Veloxum's ACO uses patent-pending algorithms to calculate the optimum server configuration settings that improve all aspects of server-based performance. Veloxum then implements and logs these new optimal configurations, and acts as a continuous 'tune-up' service to configure elements automatically without requiring any user intervention or specialist skills.
What Veloxum means for the customer is that they can increase the number of virtual desktop clients per host, running a greater number of client instances without increasing physical server capacity. This leads to dramatic cost savings in terms of deferred capital expenditure on new hardware and reduced Total Cost of Ownership (TCO) in the areas of support, maintenance, powering and cooling requirements. In addition, better running servers mean less time spend by IT personnel chasing problems. Veloxum customers typically see a return on investment period of less than 6 months.
Veloxum supports most major enterprise platforms, including Linux, AIX, SUN and Windows OS with supplied OS modules, and optimizes popular applications such as Exchange, SharePoint, SQLserver, Lotus Notes and Oracle.
About the Citrix Ready Program
The Citrix Ready program identifies verified solutions that are trusted to enhance virtualization, networking and cloud computing solutions from Citrix, including Citrix® XenDesktop®, XenAppTM, XenServer®, NetScaler® and GoToMeeting®. The Citrix Ready designation is awarded to third party products that have successfully met verification criteria set by Citrix, and gives customers an added confidence in the compatibility of the joint solution offering. The Citrix Ready program leverages industry-leading alliances across the Citrix partner eco-system to meet a wide variety customer needs, and currently incorporates over 2,800 partners who have demonstrated more than 18,000 product verifications. It also includes the Citrix Ready Community Verified program which allows customers to see thousands of products that have been verified by other customers to work in their production environments. The Citrix Ready program received the Alliance Excellence Award from the Association of Strategic Alliance Professionals (ASAP) for creating a strong community through implementation of new, innovative best practices. More information about the Citrix Ready program can be found at http://www.citrix.com/citrixready. Reach Citrix ready using social media via the Citrix Ready blog site and Twitter.
About Veloxum
Veloxum's founders started the company with the vision to apply active, continuous optimization to manage complex IT environments for optimum performance and utilization. Veloxum actively and continuously optimizes physical and virtual infrastructure by optimizing operating system and application settings. It leverages the existing systems and infrastructure by tuning the various components within their manufacturer supported settings. The solution enables IT organizations to maximize performance, increase workload density, and minimize virtualization costs, dramatically reducing CAPEX and OPEX spending.
Customers such as Adecco, Baron Funds, Beeline, CGB Group, Deutsche Bank, the United States Department of Energy, Fortress, and ISI Financial, Maimonides, PPC, and The Washington Post are enjoying significant cost savings with Veloxum. Veloxum http://www.veloxum.com, headquartered in Scotts Valley, California, was founded in September, 2007.
Veloxum, iPTE and ACO are registered trademarks and/or trademarks of Veloxum Corporation in the United States and/or other jurisdictions. All other marks and names mentioned herein may be trademarks of their respective companies.
Citrix®, Citrix Ready®, XenDesktop®, XenApp™, are trademarks of Citrix Systems, Inc. and/or one or more of its subsidiaries, and may be registered in the U.S. Patent and Trademark Office and in other countries. All other trademarks and registered trademarks are property of their respective owners.
Media Contact:
Jeff Lettes, Global Media Strategy
jlettes(at)globalmediastrategy(dot)com
twitter: @svnewscomm
http://www.globalmediastrategy.com
###