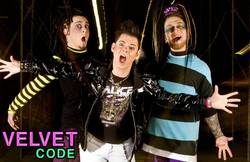 New York City, New York (PRWEB) March 20, 2008
Synthetically dark, cutting edge electro rock band, Velvet Code, announced today that they will preview their debut album, Amadeus Is Dead! (Cordless Recordings/WMG) at an all ages event at Don Hill's (511 Greenwich at Spring St.) on April 5th at 9 pm ET.
Produced by Marlon Wurmitzer (Frontman for Velvet Code), with REEQ founders Mark Saunders (Shiny Toy Guns, The Cure, Depeche Mode) and Ollie Hammett (Shiny Toy Guns), Velvet Code's album will be released worldwide on June 3rd, 2008 through the Cordless Recordings/Warner Music Group worldwide digital music platform.
Don Hill's is a premier venue in New York City, showcasing indie rock/pop and electro talent from across the country.
First surfacing in 2007 on its own independent label, Velvet Code Records, the fun loving, energetic electro rockers bring a playful blend of crisp, bright, plastic pop sounds to dark, distorted lyrics and melodies. During recent live shows at the Knitting Factory and The Delancey, they packed enough energy to even tire a house full of teenagers.
Their television debut on Fearless Music TV (Fox Television, Saturday night at 12:30 am ET) will take place in mid-April. More details to be announced shortly.
With over 5,000 plays a day on MySpace and hundreds of Street Team Leaders worldwide, Velvet Code is quickly making their mark. Velvet Code was ranked #1 on the electronic charts of Reverbnation in February 2008 and has been featured on over 100 podcasts around the world.
Velvet Code's debut single, "Trust Fund Girl" is now available for digital download on iTunes, Amazon.com and other online outlets. To preview the sounds of Velvet Code, visit: http://www.myspace.com/velvetcodeband.
About Velvet Code
Velvet Code is a triplet made up of frontman/songwriter/producer Marlon Wurmitzer, Nick Fiore on Synth/Keytar, and Ryan Kelly on drums/percussion. The band's debut single, "Trust Fund Girl" was released on March 4th 2008 with worldwide digital distribution through Cordless Recordings/WMG.
Velvet Code Contact:
Marlon Wurmitzer
Frontman/Founder
(646) 318-6681
http://www.velvetcode.com
Press Contact:
Ariel Hyatt
President/Founder of Ariel Publicity
212) 239-8384
http://www.arielpublicity.net
###