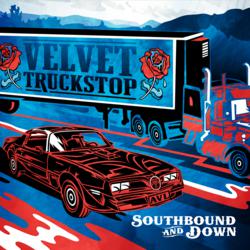 "The most defining element that sticks with you is that their music is just plain old good. Something borrowed, something blue sometimes makes something brand new...." - Honest Tune (review of Sweet Release)
Asheville, NC (PRWEB) May 31, 2013
Velvet Truckstop, a seasoned powerhouse that delivers a high-energy mix of southern rock, blues, and americana, announces the release of their sophomore album, "Southbound And Down." In the Fall of 2009, Velvet Truckstop released its first full-length recording "Sweet Release," which was subsequently voted #5 on WNCW's Top 20 regional CDs of 2009 and was featured in several newspapers, magazines and websites. Velvet Truckstop has been busy touring the U.S. in support of this most recent release, "Southbound And Down." The band regularly welcomes notable guests such as Tom Constanten (Grateful Dead) on piano, Ike Stubblefield (Frank Zappa, Jerry Garcia, Eric Clapton) on organ,and Artimus Pyle (Lynyrd Skynyrd) on drums.
Velvet Truckstop is Jamie Dose on guitar and vocals, Dorsey Parker on guitar, Ian Harrod on bass and vocals, and Jacob Baumann on drums. Their sound is often described as Wilco meets Widespread Panic, though it is undoubtedly peppered with influences from Dose and Parker's 10 years of playing with original Skynyrd drummer, Artimus Pyle. Rowdy to somber country and all points in between, Velvet Truckstop takes the listener on a journey with them, throughout "Southbound and Down."
"Southbound and Down" was produced by legendary music producer Johnny Sandlin (Capricorn Records, Allman Brothers Band, Widespread Panic) and features two songs by Grammy Award winner Randall Bramblett. All songs were recorded in 2012 just outside of Muscle Shoals, Alabama. Southbound and Down is authentic Rock and Roll dipped in purified Alabama Mojo.
You can learn more about Velvet Truckstop at http://www.velvettruckstop.com
If you have any questions, comments or would like to set up an interview, please contact Melissa Zeigler at melissa(at)powderfingerpromo(dot)com.
Powderfinger Promotions Independent Radio Promotion and Publicity - Since being founded in October 1994, Powderfinger has come to be regarded as a top indie radio promoter and publicity firm with ties across North America.