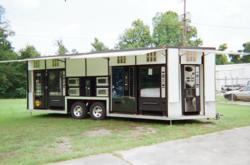 Looking both inside and out of the vending marketplace to solve industry needs offered a different viewpoint of the vending industry and the result is the intelligently designed mobile automated store
Mobile, AL (Vocus/PRWEB) February 03, 2011
The VendaCarts concession/vending/catering trailer is a new style of food service. The design makes efficient use of valuable space combining up to nine built in vending machines, eight microwaves, ATM's, condiment stands and digital signage under one roof.
Once on location both sides of the trailer are raised to create awnings, exposing the ready to operate self serve food and beverage vending business. The food trailers are equipped with cutting-edge technology that fully automates the sales and accounting functions of the business and allows daily business activities to be accomplished by a single person.
Vending machines streamline the process of servicing customers offering a self serve option instead of waiting in long lines. This combined with credit/debit card payment drives traffic and creates a time-efficient option for customers while pre-packaged foods and beverages insure healthier and safer products for the consumer.
The $30 billion concession industry is growing rapidly and VendaCarts offers opportunities that were not available before now. In the past automated sales have been limited to bricks and mortar but VendaCarts mobile automated sales have changed the game, offering unlimited versatility in retail convenience. Consider the benefits of unattended sales, mobile real-estate, machine interchangeability, venue versatility and immediate return on investment. VendaCarts appeals to forward thinking companies and individuals looking for a competitive edge as well as to those entering the automated sales business for the first time.
"Looking both inside and out of the vending marketplace to solve industry needs offered a different viewpoint of the vending industry and the result is the intelligently designed mobile automated store say's Annette Antoine Nolan, CEO and founder of Carts Blanche."
About Carts Blanche, LLC
Carts Blanche, LLC, based in Mobile, Alabama, was founded in 1995 by Annette Antoine Nolan. Originally, Carts Blanche designed and manufactured wooden push carts and kiosks. "VendaCarts" is the latest product launched by Carts Blanche. VendaCarts is a revolutionary mobile automated trailer equipped with up to nine built-in automatic vending machines plus a combination of service units such as ATM's, digital signage boards, microwaves and change machines. Once on location, both sides of the trailer pneumatically raise creating awnings that expose the ready to operate vending business. The trailer design allows daily business activities to be accomplished by one person. VendaCarts combines the fast-turn, high-volume worlds of vending and concessions with mobile real estate allowing the owner to capitalize on new markets and new customers at a higher rate of return offering a fresh new approach to self service retailing. For more information please go to http://cartsblancheonline.com
Product Photos Download http://cartsblancheonline.com
Stay Informed. The latest news from Carts Blanche, LLC at News on website
# # #