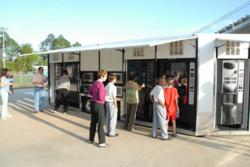 I envision a large number of followers over the months to come.
Mobile, AL (PRWEB) June 28, 2011
"VendaCarts" mobile automated kiosk is a revolutionary product worthy of touting in the blogosphere and Annette Antoine Nolan, CEO of Carts Blanche, LLC is very optimistic about building a large blog following through her postings at KioskMarketplace.com and SelfServiceWorld.com.
"I envision a large number of followers over the months to come. There are many people who are interested in business opportunities and entrepreneurial endeavors in the automated retail industry as well as those within the industry who are forward thinking," says Nolan.
When asked what will set her blog apart, she said that VendaCarts mobile automated stores are one of the newest and greatest advantages offered to entrepreneurial retailers in the automated industry. "Having the chance to get the facts out through blogging is very exciting to me," says Annette.
Nolan invites everyone who is curious about mobile automated kiosks and the future trends in mobile automated retail to follow the bi-monthly blogs at KioskMarketplace.com and SelfServiceWorld.com. The future blogs will describe the multiple ways this new style of retailing will change the future of self service automated sales expanding operations into non-traditional territories for unlimited business growth. In addition, the blogs will explain the multiple uses for VendaCarts: mobile convenience stores, automated concession trailers and catering kiosks, mobile video arcades, mobile automated marketing and promotional activities, remote mobile business and banking operations, disaster relief food delivery solutions etc.
Stay tuned in and in touch with the future of "VendaCarts" mobile automated kiosk!
About Carts Blanche, LLC
Carts Blanche, LLC, based in Mobile, Alabama, was founded in 1995 by Annette Antoine Nolan. Originally, Carts Blanche designed and manufactured wooden push carts and kiosks. "VendaCarts" is the latest product launched by Carts Blanche. VendaCarts is a revolutionary mobile automated trailer equipped with up to nine built-in automatic vending machines plus a combination of service units such as ATM's, digital signage boards, microwaves and change machines. Once on location, both sides of the trailer pneumatically raise creating awnings that expose the ready to operate vending business. The trailer design allows daily business activities to be accomplished by one person. VendaCarts combines the fast-turn, high-volume worlds of vending and concessions with mobile real estate allowing the owner to capitalize on new markets and new customers at a higher rate of return offering a fresh new approach to self service retailing.
For more information please go to http://cartsblancheonline.com
###