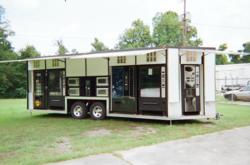 As we build our presence in the vending concession and catering industries, we are also building appropriate partnerships with distributers to further our marketing and sales strategy
Mobile, AL (PRWEB) May 17, 2011
Carts Blanche, LLC is presently seeking leading world-wide distributors to represent their leading-edge product "VendaCarts" the first to market mobile automated food and beverage kiosk.
VendaCarts mobile automated store is a trailer designed as a plug-and-play system that allows the owner the ability to choose any combination of vending machines, microwaves, ATM's, condiment stands and/or digital signage needed for their specific locations. These units can also accommodate video arcade games, photo booths, crane machines and gaming equipment.
VendaCarts offer comprehensive mobile automated business design solutions without the expense and delays of customization. The trailers are sold either empty for those who choose to add their own vending machines and additional equipment or as a turn-key business packaged to meet customers' needs.
The company's vision of multiplying vending operations by adding wheels to vending opens up new markets such as specialty events, construction/building sites, manufacturing locations, shut downs, university settings, entertainment facilities, disaster relief sites, military locations etc. giving vending distributors a new way to sell vending machines.
"As we build our presence in the vending concession and catering industries, we are also building appropriate partnerships with distributers to further our marketing and sales strategy" said Annette Antoine Nolan CEO of Carts Blanche, LLC. These partnerships will be with companies that understand the potential that VendaCarts brings to the marketplace and can create leverage within the vending industry.
"I am confident that with this global expansion the sales of VendaCarts will grow beyond initial expectations" says Nolan.
About Carts Blanche, LLC
Carts Blanche, LLC, based in Mobile, Alabama, was founded in 1995 by Annette Antoine Nolan. Originally, Carts Blanche designed and manufactured wooden push carts and kiosks. "VendaCarts" is the latest product launched by Carts Blanche. VendaCarts is a revolutionary mobile automated trailer equipped with up to nine built-in automatic vending machines plus a combination of service units such as ATM's, digital signage boards, microwaves and change machines. Once on location, both sides of the trailer pneumatically raise creating awnings that expose the ready to operate vending business. The trailer design allows daily business activities to be accomplished by one person. VendaCarts combines the fast-turn, high-volume worlds of vending and concessions with mobile real estate allowing the owner to capitalize on new markets and new customers at a higher rate of return offering a fresh new approach to self service retailing.
For more information please go to http://cartsblancheonline.com
###