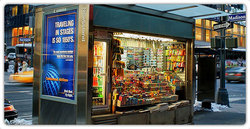 Many of these new vendors don't know about the specifics of liability insurance, why they need it, or how much they need.
Colleyville, TX (Vocus) April 28, 2010
Shopping for short term insurance should not be a long term process. Now, thanks to http://www.VendorInsureNow.com, vendors, concession operators and even companies running booths at a convention can obtain short term insurance quickly and easily. By answering a couple questions pertaining to the size of your booth and the state in which your booth will be operating, vendors can receive a quote from an A Rated Carrier within five minutes. This easy to use process allows vendors to quickly obtain 1-day or weekend insurance, specific to their event. Vendors know that booth locations and insurance requirements can change rapidly, and the need for a fast, flexible insurance solution is imperative.
Obtaining vendor insurance has never been easier. With the simple two step process, once the quote is received, the vendor can print out their certificate of liability coverage and be on their way. VendorInsureNow.com specifically caters to vendors, concessionaires, and short term convention operators, meaning the customer will always get a quick, responsive quote. Specializing in vendor's insurance, VendorInsureNow.com can fully understand the needs of vendors and provide the quote that fits their coverage needs perfectly.
The market for short term or special event insurance has been growing, especially in this down economy as more individuals turn to street vending or concession operating to provide income. "Many of these new vendors don't know about the specifics of liability insurance, why they need it, or how much they need." said JD Tanner, Owner of VendorInsureNow.com. "Our expertise allows us to fully understand their needs, provide an A-Rated quote, and do it all in minutes to allow our customers the opportunity to make money and not spend unnecessary time on insurance ."
About the Company: VendorInsureNow.com is a provider of near-instantaneous, top rated insurance quotes for merchants and vendors. Combining years of experience on both the retail agency and insurance carrier side of the industry, VendorInsureNow.com understands the insurance needs of vendors and exhibitors. For more information, visit http://www.VendorInsureNow.com/about-vendor-insure-now.
# # #