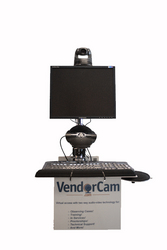 The AHRMM conference was the first time these new products were introduced to the market
Eden Prairie, MN (PRWEB) July 30, 2008
VendorClear™, the company who pioneered web-based vendor access services for healthcare facilities, announces that two new products designed to help health organizations and vendor representatives operate more efficiently and increase facility safety will now be available for purchase on limited release.
VendorClear introduced VendorCam™, the healthcare industry's first-real time, two way, audio-visual communication system, and VendorReserve™, a new comprehensive reservations management system for healthcare facilities, at the AHRMM08 Annual Conference & Exhibition July 21-22, 2008. In response to overwhelming interest among healthcare professionals and vendor representatives, VendorClear will now be accepting orders for both products.
"We saw a need for products that help healthcare organizations and vendors save time and money while improving facility safety for patients and staff," said Mike Schreiber, VendorClear Founder & Managing Principal. "The positive response we received for VendorCam and VendorReserve helped validate that need and encouraged us to make the products available immediately in a limited launch."
While limited quantities of VendorCam and VendorReserve are currently available, representatives are now taking orders, with mass production scheduled to begin in the near future.
"The AHRMM conference was the first time these new products were introduced to the market," said Schreiber. "We are excited to increase availability and strongly believe that VendorCam and VendorReserve will significantly enhance vendor access."
VendorClear.com provides web-based vendor access services focused on managing and tracking vendor credentials, vendor activity and providing communication links for healthcare facilities and their vendor representatives. To learn more about their products and services, call 1-800-583-3812 or visit http://www.vendorclear.com
# # #