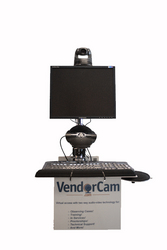 VendorReserve is an ideal solution for both healthcare facilities and vendors
Eden Prairie, MN (PRWEB) July 16, 2008
VendorClear™, the company who pioneered web-based vendor access services for healthcare facilities, will introduce two new innovative products for health organizations and vendor representatives at this year's AHRMM Annual Conference & Exhibition--VendorCam™ and VendorReserve™.
VendorCam is the healthcare industry's first real-time, two-way, audio-visual communication system for healthcare facilities and vendor representatives. VendorCam's HIPPA compliant technology now makes it possible to do everything from virtually observing and supporting procedures, to training clinicians and new sales reps and completing physician to physician proctorships.
"Our goal was to address the main concerns of healthcare facilities and their vendors: time, money, efficiency, and safety," said Mike Schreiber, VendorClear Founder & Managing Principal. "Sometimes there is no substitute for actually being there. For those other times, now there is VendorCam."
VendorClear will also be unveiling VendorReserve, a new comprehensive reservations management system for healthcare facilities. VendorReserve provides a unique transparent reservations solution that allows physicians offices, clinics and hospitals to better control access by allowing them to see who, what, when, and where vendors are accessing their facility.
VendorReserve also increases efficiency for vendor representatives by providing an alternative time management solution that allows them to request appointments with key staff, provide "pre-selling" materials, track reservations and appointment activity and sync appointments with their Outlook calendars.
"VendorReserve is an ideal solution for both healthcare facilities and vendors," said Schreiber. "Vendors save time and money tracking down and contacting the appropriate personnel. Healthcare facilities gain greater access control and cut down on unnecessary or unwanted solicitations. It's a true win, win situation."
VendorClear will be providing VendorCam and VendorReserve product demonstrations at the AHRMM Annual Conference & Exhibition July 21-22, 2008 between 10 a.m. and 2 p.m. at booth #404.
VendorClear.com provides web-based vendor access services focused on managing and tracking vendor credentials, vendor activity and providing communication links for healthcare facilities and their vendor representatives. To learn more about their products and services, call 1-800-583-3812 or visit http://www.vendorclear.com.
###