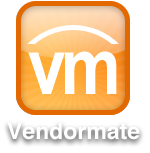 "The priority support feature of Vendormate Mobile may make the difference between a rep meeting a customer's needs or not."
Atlanta, GA (PRWEB) March 16, 2012
More than 2000 iPhone-using medical sales representatives have already downloaded the updated Vendormate Mobile rep credentialing app since it was officially launched March 14. The new app, available for iPhone, IPad, and Android devices, gives healthcare vendor representatives priority support from Vendormate agents and lets them tap into a nationwide database of hospitals to find locations and contacts. The app still contains the hospital appointment sign out capability that thousands of reps had already downloaded.
"We try to make vendor credentialing as easy as possible. But in those cases where a representative needs extra assistance, the priority support feature of Vendormate Mobile may make the difference between a rep meeting a customer's needs or not" said Bill Hayes, president and COO of Vendormate.
Several enhancements are included in this release. In addition to the priority support experience, users can access a searchable national database of hospitals and key contacts. This database helps mobile reps quickly identify the hospital's vendor credentialing organization, key contacts, and locations. Users across the US provide real world information to update the application. Finally, the Android application was completely redeveloped making the user experience faster and easier.
These new features of Vendormate Mobile are the latest Vendormate services available to vendors on the front line of healthcare vendor credentialing. Healthcare vendor credentialing is the way hospitals communicate and manage their business requirements for doing business with their suppliers. The suppliers in turn face a bewildering array of hospital-specific requirements. Vendormate services, such as reporting and consulting, help vendors control and streamline their credentialing and compliance.
Vendormate currently works with more than 200,000 individual representatives on behalf of hospitals across the U.S.
"Vendormate is focused on healthcare suppliers and their relationship with hospitals," added Hayes. "We are building out supply chain services that leverage our network of 1400 hospitals and 50,000 vendor companies. The relationships and data in our network can be used to improve many links in the supply chain -- from supplier discovery and sourcing to contract management to invoicing ."
###
About Vendormate: Vendormate bridges healthcare providers and suppliers to ensure both sides know more about who they are doing business with today and who they should do business with tomorrow. Vendormate leverages its extensive vendor credentialing network to deliver software-as-a-service (SaaS) applications that give buyers and sellers increased transparency and information control as a foundation for collaborative and strategic relationships.