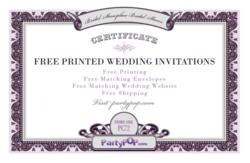 PartyPOP.com Collaborates with Vendors to get Free Printed Wedding Invitations to any Bride and Groom in the US, Canada and the U.K.
(PRWEB) March 13, 2012
Not too long ago PartyPOP.com made headlines by giving out free wedding invitations to any bride and groom in the USA, Canada and the U.K. The company's website facilitates more than 2 million party, wedding and event professionals and is expanding each day as vendors list their businesses on the network. Many of them are giving out certificates for free printed wedding invitations in collaboration with PartyPOP.com. They include a broad selection of professionals such as:
Dance With Me Ballroom is a social dance club based in Ocean City, New Jersey. The company's main goal is to teach its customers how to become confident and comfortable social dancers. Dance With Me Ballroom is certified by the United States Independent Dance Council. The company provides opportunities to improve dance skills through dance events organized in their own studio, as well as in other locations. Dance With Me Ballroom also provides choreographed routines for weddings, In-House showcases and Pro/AM competitions. Dance lessons can be taken in groups, private, and at dance socials. Dance With Me Social can be contacted at http://www.partypop.com/v/4364520.
Backdrops Fantastic is located in Macon, Georgia and sells or rents out backdrops nationally and internationally. The company's backdrops include scenic and stage backdrops, theme event backdrops, award winning sectional backdrops and panoramic room set backdrops. Backdrops Fantastic serves any type of event: stage, theatre, photo, production, party, prom, reunion and more. Backdrops Fantastic's broad selection of hand-painted scenic backdrops are also rented or purchased by museums, tradeshows, and corporate events. The company's design team can produce customized backdrops for any occasion. Backdrops Fantastic can be found at http://www.partypop.com/v/4074570.
About PartyPOP.com- the largest party, wedding and event planning online network:
Before the Internet era, the professionals at PartyPOP.com were successful hands-on party planners and special event producers. For more than a decade PartyPOP has translated 30 years of party planning experience onto the Internet. Millions of vendors are listed on the network consisting of 60+ websites and tens of millions of customers have used the network to plan their parties, weddings and events. PartyPOP.com also provides party and event related tips, themes and ideas, as well as a free full wedding planning software called Seating Arrangement.
About Free Printed Invitations by PartyPOP.com:
PartyPOP provides every bride and groom across the USA, Canada and the U.K. with free beautifully designed wedding invitations, printed on 80lbs card stock paper with matching envelopes and wedding website. Even door to door shipping is included at no cost. There are no hidden fees, no obligations to buy and no strings attached!