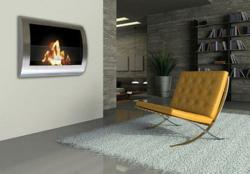 Ventless fireplaces are a good, eco-friendly alternative to a conventional fireplace, as they release no toxic particles into the air and are made more sustainably.
(PRWEB) October 17, 2012
HomeThangs.com – the Home Improvement Super Store has made their goal to deliver the right product to the consumer, with that in mind, shopping and home design tips, as well as special product selections are being introduced.
Fireplace is not exactly the kind of thing that can be added on to the home on a whim – cozy bricks, chimney, and all that are more than just a weekend DIY project. Homethangs.com introduced ventless fireplaces - stylish, sophisticated fireplaces that do not require all the work or expense of a traditional vented one. Ventless fireplaces are easy to install, and offer a cool modern update to the traditional brick fireplace in spaces that couldn't otherwise have one.
1. What Ventless Fireplaces Are
There are a couple different kinds of ventless fireplaces, but they all act on the same principle and use similar materials. Traditional fireplaces burn wood, gas, or some combination of the two, producing heat but also fumes, and in the case of wood, - ash. Ventless fireplaces, like the Tribeca II by Anywhere Fireplace for example, use an ultra-clean burning liquid or gel fuel that produces heat but neither fumes nor any kind of residue, and can be burned anywhere without ventilation. This immediately nixes the complicated structural element of fireplaces with a versatile, even portable kind of fireplace that can easily be installed in any room in a home, or even outside.
2. Where to Install
Ventless fireplaces come in several different forms, from ones that can be "installed" simply by setting them down on a flat surface to ones that mount to a wall. It's important to note that most models can't be recessed in the wall like a traditional fireplace because they produce too much heat and need access to air from all sides, but a wall mount that's included with ventless fireplaces offers a fairly seamless finish, while floor mounted ones, like the Madison Fireplace by Anywhere Fireplace, provide 360 degree heat in the center of the room. Many models can even be used outside, from tiki-torch style to simple, elegant table toppers and centerpieces.
3. How it Works
All ventless fireplaces, like Lorenzo from Bio Flame (which incidentally can be used with a recessed installation), for instance, have built in reservoirs that are filled with liquid fuel, and ignited with a long match or wand-style lighter. It burns cleanly, producing only water vapor and a small amount of carbon dioxide, for up to five hours per filling. Just like with a traditional fireplace, this produces a lively, orange-yellow flame (not the blue flame of natural gas) and lightens, brightens, and heats the room it's in.
4. How Much Heat is Produced
How much ventless fireplaces heat depends a little bit on the model, size, and type of fuel used. By and large, though, ventless fireplaces are capable of heating about a 375 square foot area. More technically, with the fuel container fully uncovered, ventless fireplaces, like the SoHo Fireplace by Anywhere Fireplace, can produce up to 13,000 BTU or 3.5Kw/H of heating energy, which is roughly equivalent to a traditional fireplace (though that varies pretty widely) and perfectly capable of warming a small room. As well, because there's no heat lost up a vent, flue, or chimney, and because ventless fireplaces can be either wall mounted or installed in the center of the room, one can actually feel more of the heat produced.
5. The Bio-ethanol Fuel
All ventless fireplaces use some form or another of bio-ethanol. This is a plant-based alcohol that's typically made from agricultural byproducts and processed to be completely pure and clean burning. For those who hate trying to clean out a conventional fireplace, or even hesitate to use one because of the environmental impact of burning wood, ventless fireplaces are a good, eco-friendly alternative, as they release no toxic particles into the air and are made more sustainably.
6. A Word about Outdoors
Ventless fireplaces can work inside and out. Now, while this isn't true of all models, it is true of many of them. Some are small and lightweight enough to actually be moved (like the petite Oasis by Anywhere Fireplace), but many are made with all-weather materials so they can be left outside and provide light, warmth, and a nice gathering space for the entertaining out of doors. Something like the Gramercy Fireplace by Anywhere Fireplace produces enough heat that it can even extend the back yard BBQ season.
HomeThangs.com is not only a home improvement superstore, it also provides expert home design tips and a comprehensive shopping guide, taking the ideas from professional interior designers, and offering tips to the consumers on how to pick the products to best suit their needs.