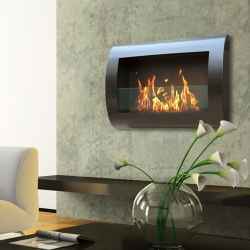 A little more modern than any traditional fireplace, these self-contained personal fireplaces don't need chimneys, and are safe to install in even the smallest apartments, which often makes them the new favorite holiday decoration.
(PRWEB) December 03, 2012
HomeThangs.com – the Home Improvement Super Store has made their goal to deliver the right product to the consumer, with that in mind, shopping and home design tips, as well as special product selections are being introduced.
There's nothing that signals the beginning of the holiday season quite like the first time a family lights a fire in the fireplace. If living in a house without a chimney or a an apartment or condo, gathering around a live flame is basically out of the question, short of starting a bonfire in your living room. HomeThangs.com offered a solution by introducing ventless fireplaces. A little more modern than any traditional fireplace, these self-contained personal fireplaces don't need chimneys, and are safe to install in even the smallest apartments, which often makes them the new favorite holiday decoration.
1. What A Ventless Fireplace Means
Ventless fireplaces are, more or less, what they sound like - fireplaces that don't need a chimney or flue the vent smoke and ash the way a traditional fireplace does. This is because ventless fireplaces, like the Tribeca II by Anywhere Fireplace for example, don't use gas or firewood for fuel. Instead, they use a clean-burning liquid bio-ethanol. This is a grain-based type of alcohol that's purified and clarified so that, when burned, it produces only water vapor and a small amount of carbon dioxide, keeping the air in a home totally breathable without any ventilation. For anyone who lives in a place where it would be impossible to install a traditional fireplace, this is an excellent option, as one can have the same heating power and beauty of natural flame regardless of living place.
2. Not A Tacky Space Heater
To be clear, ventless fireplaces aren't the same thing as electric fireplaces or electric space heaters. While there are some pretty decent, fireplace-esque space heaters out there (and a whole lot more really terrible ones), ventless fireplaces offer more than just the opportunity to watch the Yule log on an iPad. Ventless fireplaces are real fireplaces that have a real, live flame. Each one comes with a small canister or trough that is filled with the liquid fuel, then ignited with a long match or wand-style lighter to get a strong, yellow-orange flame that will last for several hours. Like a traditional fireplace, ventless fireplaces are capable of heating a 375 square foot room. So while something like the SoHo Fireplace might look more like a TV than a brick-and-mortar hearth, it's capable of producing the same flame.
3. Great Holiday Decoration for Small Spaces
The notion of lighting a fire in the fireplace is one that's linked to the holiday season; it makes sense to include a small ventless fireplace as part of the holiday decor. Many ventless fireplaces are large - roughly the size of a small flatscreen TV - or are meant to sit in the center of the room like a coffee table. But there are also table-top versions available, like the Lexington by Anywhere Fireplace for example, as well that are heavy enough to stay in place when they're in use, but light enough that they're easy to move in the off season. Surrounded by some holiday greenery or a few well-placed gourds, the living flame makes a beautiful, eye-catching centerpiece that can add a little warmth (literally and figuratively) to the room. And because the fuel is all natural, one of these small ventless fireplaces is actually safer for roasting marshmallows than the chemical logs often used in full sized fireplaces.
4. Extends the Outdoor Season in Warmer Climates
Having an indoor fireplace of any kind might seem unnecessary when temperature rarely drops below 50 or 60. But ventless fireplaces are great for people who live in warmer climates, too, and not just the ones that think 50 degrees is the temperature water freezes at. A large, outdoor fireplace, like Gramercy by Anywhere Fireplace for example, can significantly extend the "outdoor" season, allowing to continue entertaining into the holidays not only by producing light (and a beautiful centerpiece) but primarily because of the heat. The real beauty of a fireplace is getting warmed up, and even if having to go outside to find some cold, it's a great way to foster a warm, cozy, homey, holiday feeling among the guests.
5. Modern Fireplaces for an Old Tradition
Ventless fireplaces don't exactly look like a traditional fireplace. There's nothing rustic or homey about them, no logs to poke, and not even a place to pretend Santa can fit through. But as many of us strike out on our own, often into more modern homes, there isn't always room (literally or aesthetically) for a traditional stone hearth. But that doesn't mean we can't still enjoy the beauty and warmth of a good old fashioned holiday fire, with the family gathered around and a nice cup of cocoa. Even a small flame reminds just a little of fireside chats and the warmth of home and holiday.
HomeThangs.com is more than just a Home Improvement Superstore. They're constantly seeking to provide homeowners and designers with the right products at competitive prices. With a wide selection of products, expert design tips, and comprehensive shopping guides, Homethangs is a company that's there at all stages of the design process, from idea to execution. It's their goal is to make dream remodels doable.