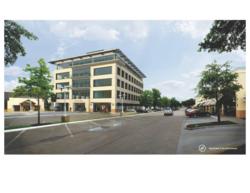 Dallas, Texas (PRWEB) May 21, 2012
Two Venture Commercial deals have been named Best Real Estate Deals of 2011 by the Dallas Business Journal's annual awards program. The Plaza at Preston Center has won Public/Private Deal of the Year, and Nebraska Furniture Mart has won New Development Deal of the Year.
The Plaza at Preston Center – Public/Private Deal of the Year
Venture's Mike Geisler worked with the owners of The Plaza at Preston Center and the City of University Park (UP) to end the city's search for a permanent library location, while addressing the center's need to improve parking and traffic flow. When The Plaza completes construction on a new five-story commercial building and 450-space underground parking facility in December 2012, the UP Library will welcome residents to its new 17,500-square-foot space on the second floor of the building. An exchange of ownership of streets, sidewalks and alleys for the library space made for a unique public-private partnership benefitting retailers, shoppers and local residents.
The following key players in The Plaza deal have also been recognized: Jeffrey Good, Good Fulton & Farrell; Bob Livingston, City of University Park; Leon Davis and Will Pender, Rogers-O'Brien Construction; Pamela A. Spadaro, U.S. Trust Bank of America Private Wealth Management; Jon Herrin, L.A. Fuess Partners Inc.; Jason Williamson, Dunaway Associates; Bonnie McInnish, McInnish Engineering; Paul Comeaux, Thompson & Knight, LLP; Todd McCoy, Centergy Retail LLC; Bill Skelton, Friends of the University Park Public Library.
Nebraska Furniture Mart – New Development Deal of the Year
Venture Commercial's Larry Leon, Jonathan Cooper and Bob Moore assisted Nebraska Furniture Mart in its acquisition of four land tracts totaling 433-acres in The Colony. The Omaha-based company, owned by Berkshire Hathaway Inc., will build a mixed-use development anchored by a 1.8-million-square-foot Nebraska Furniture Mart retail and distribution center. The new development will become a significant retail and entertainment destination for the region, and is expected to bring new jobs, tourism and regional and national recognition to The Colony, as well as the entire North Texas region.
The following key players in the Nebraska Furniture Mart deal were also involved: David Davidson Jr., Venture Commercial; David Davidson Sr., Davidson Real Estate Co.; Bob Batt, Ryan Blumkin and Jeff Lind, Nebraska Furniture Mart; Tod Maurina, Keri Samford and Troy Powell, The Colony; Chris McFadden, Turner Construction Co.; Mark Murray, Glast Phillips and Murray; Misty Ventura, Shupe Ventura Lindelow & Olson PLLC.
For more information about the Dallas Business Journal's Best Real Estate Deals, visit http://www.bizjournals.com/dallas/.
About Venture Commercial
Venture Commercial is recognized as a leader in retail brokerage services throughout Texas for its dedication to each client's success. The company's full-service real estate platform includes landlord and tenant representation, property management, land sales, and income property sales. Additionally, Venture provides strategic market planning and site selection for restaurant and entertainment clients through its Venturetainment division. As the D-FW partner of X Team International, Venture is able to serve its clients on a national scale. For more information visit http://www.venturedfw.com.