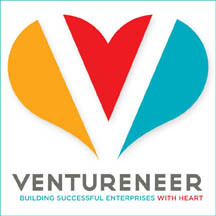 People forget just how public and permanent the internet is. We need to craft good messages, not just type a bit and hit send.
New York, NY (Vocus) June 30, 2010
Before hitting send -- think! A lot is at stake in every email. It's not just a message; it's a permanent record that reflects the sender and, more importantly, the organization, whether a business or a nonprofit.
Today's workforce is more wired than ever before, with immediate and constant access to text messaging, email, and social networking sites. Technology encourages people to share information in the blink of an eye ... but its "out there" forever, making an impression on anyone who comes across it, not just the intended recipient.
An organization's electronic communication is its public face. With so much at stake, entrepreneurs and nonprofit executives need to understand how to best represent their organizations online.
To help them understand and control their electronic messages, Ventureneer is offering a free webinar, Send Is Forever: Workplace Communication in the 21st Century on Wednesday, July 14, from 12 noon to 1 pm ET.
"People forget just how public and permanent the internet is," said Geri Stengel, founder of Ventureneer. "We need to craft good messages, not just type a bit and hit send."
In this online seminar, small business owners and nonprofit executives will learn the essentials of good workplace communication from avoiding miscommunication to the risks of social networking, from the dangers of email in the courtroom to minimizing potential embarrassment. Topics include ( but aren't limited to):

Adapting writing style to the reader (and those who might unexpectedly see it);
Email vs phone: which to use and when;
The digital footprint: How social media posts can cost a person's job.
Instant messaging: How to make it save time instead of waste time.
Organizations can't afford to assume that employees know what to say and how to say it. Business owners and nonprofit leaders need to make sure employees can represent themselves and the organization in a professional, effective manner.
Anyone who communicates with the public -- entry-level staff to managers and directors -- will find this webinar useful.
It will be taught by P. Justin Fahey who has an eclectic background, as an award-winning journalist, a comedian, and Chief of Staff and Director of Communications for a New Jersey Assemblyman.
For more information or to register for the class, go to Ventureneer's website.
About Geri Stengel
Geri is founder of Ventureneer, an online education and peer support service. An adjunct professor at The New School, she honed her online experience at companies like Dow Jones and Physicians' Online. Geri co-founded the Women's Leadership Exchange and is president of Stengel Solutions, a consulting service for social-impact organizations.
About Ventureneer
Ventureneer.com provides nonprofit and small business advice as well as entrepreneurial and nonprofit training through a new approach to learning: a blend of traditional, formal instruction with informal, peer learning that takes advantage of Web 2.0 technology to capture and share knowledge. Ventureneer's customized blogs, virtual classes, peer-to-peer learning, coaching, web events, and articles help entrepreneurs make faster, better decisions for their enterprises.
###